Famous Pakistani writer, analyst and TV anchor Najam Sethi ..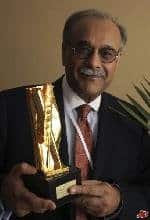 Najam Sethi Born in November 1948, Najam Sethi is an award winning Pakistani journalist, editor, and media personality, is the editor-in-chief of The Friday Times, a Lahore based political weekly, and previously the editor of Daily Times and Daily Aajkal newspapers.
Currently, he does a current-affairs program on Geo TV, Pakistan's most popular private news channel. He also owns Vanguard, a publishing house and a chain of bookstores.
Najam Sethi, an award-winning Pakistani journalist, is the editor-in-chief of The Friday Times, a Lahore-based political weekly, and the Editor-in-Chief of Geo News where he hosts a popular political program: "aapas ki baat". He is the only journalist in Asia to receive three international press freedom awards in a decade.He is married to Jugnu Mohsin, Publisher and Managing Editor of The Friday Times, and Good Times.
They have two children – Ali Sethi and Mira Sethi. Ali graduated from Harvard University in 2007 and his novel titled "The Wish Maker" has been published in English, Dutch, German and Italian. Mira graduated with honours from Wellesley College in the USA and is the Bartley Fellow at the Wall Street Journal in New York,
Najam Sethi, 63, graduated from Government College, Lahore, Pakistan, in 1967. He was awarded the Presidents Gold Medal for standing first among 50,000 students of Punjab University.He took an MA degree in Economics from Cambridge University, UK, in 1970 and was awarded the Davies Prize for Economics by Clare College. He was a PhD research student at Clare College from 1971 to 1972.
While in Pakistan to research his dissertation subject, he was detained as a political prisoner by the Zulfikar Ali Bhutto regime from 1975 to 1977 for protesting military action in Baluchistan province following the illegal dismissal of the elected governments in two provinces. Amnesty International included him among its list of political prisoners in Pakistan at that time. He was discharged honorably in 1978 when all political prisoners were freed.
In 1978 he established Vanguard Books, an independent, liberal, secular publishing house which has published over 400 titles since then in history, politics and economics.
In 1984 he was imprisoned by the military government of General Zia ul Haq for one month ("preventive detention") without formally being charged for any crime. But the real reason was Gen Zia's aversion to a book published by Vanguard Books. It was titled "From Jinnah To Zia" and authored by the former chief justice of the Supreme Court of Pakistan, Justice Mohammad Munir. The book was a sort of mea culpa in which the author had admitted his grave error in legitimizing the first martial law in Pakistan in 1958, thereby paving the way for Gen Zia's martial law in 1977. It was very critical of Gen Zia.
Najam Sethi is the only journalist in Asia to receive three international press freedom awards in a decade from Amnesty International, UK, Committee to Protect Journalists, New York, and World Association of Newspapers, Paris.
Najam Sethi, CIA agents and professional journalists
There are many points of merit in Mr. Najam Sethi's editorial for The Friday Times (TFT, 6-12 Jan 2012).
While there are some crucial omissions, one must give Mr. Sethi credit for stating a few bold things. The problem is Mr. Sethi himself fails on many of these counts.
In the last year, he has:
1. Stated the following in his September 23rd editorial: "there is only one institutional force that can establish the writ of the state and restore law and order. That is the Pakistan Army."
2. Promoted the works of a controversial Indian author who has sought to dilute the role of the Pakistan Army in the 1971 genocide in East Pakistan
3. Been a part of the "elite" panel of "journalists/analysts/ex-military bureaucrats that have argued for supporting the Taliban as an instrument of Pakistan's (read military establishment's) policy in Afghanistan
4. Shifted the blame for Pakistan's military's actions on to the elected government.
So it is heartening to see that Mr. Sethi has laid down a criteria that exposes himself; even if that criteria has omitted some crucial points.
For starters, when talking about the danger to journalists, Mr. Sethi has highlighted the name of a Punjabi victim of the ISI and not a Baloch or Pashtun victim! His discourse is typically Punjabi-urban centric and unfortunately often laden with contempt for the PPP which derives its electoral strenght from Sindh, Southern Punjab and many areas of FATA, Khyber Pakhtunkhwa, Balochistan, Azad Kashmir and Gilgit Baltistan.
Mr. Sethi has also conveniently omitted how the media along with the judiciary has played a crucial role in slandering all those journalists who have taken a line that differs from that of the establishment. It is the Punjabi-Jamaat-e-Islami dominated media that has reinforced the grotesque criteria used to malign journalists with a differing viewpoint.

Najam Sethi's support for Pakistan army and their Haqqani Network – by Lakshmi Khatri
Since being flown around in a military helicopter in 1976, Mr. Najam Sethi's relationship with the military establishment has always been cosy. If there is a consistent theme to Sethi's journalism, its his soft critique for military dictators and Bonapartist generals and his petty and personal vituperations against elected politicians, especially those from the Pakistan People's Party.
In his recent editorial in The Friday Times, he clearly states his preferences:
"there is only one institutional force that can establish the writ of the state and restore law and order. That is the Pakistan Army."
While Sethi provides gentle and vague criticism of the army in order to not appear overly enthusiastic in his support for them, he deceptively manages to position them as a more viable option than elected democracies.
This he essentially does by dishonestly placing the blame of the ongoing Shia massacres across Pakistan, NOT on the Pakistan army, the primary back of the Jihad project but on the elected government. At this point, Mr. Sethi conveniently omits two crucial facts:
1. It was a GHQ pliant judiciary that has freed not just Malik Ishaq, leader of the Shia-killing SSP-LeJ but also other Jihadi terrorist assets of GHQ-ISI, e.g. Hafiz Saeed, Qari Saifullah Akhtar etc
2. That during a terrorist attack, Malik Ishaq was flown in the army chief's plane by the military to negotiate with terrorists in 2009; what is it with Mr. Sethi and military flying machines

Najam Sethi's new weapons for crusade
Our "yaarun ka yaar" Mr. Najam Sethi keeps threading through illusions over Memogate issue and this time he appears with improved tools of confusion to help-out another "yaarun ka yaar". His new article is available in India Today's online edition.
He agitates at the resignation by Mr. Haqqani at the behest of army establishment, without having done an inquiry into the matter. He reminds the nation of losses in East Pakistan, Siachin and Kargil and re-prints the terrorist attacks on military installations as failure of army to stop them and wonders no high official of army resigned for these failures.
Having space issue in mind, I prefer to address his new jumbles about memogate only.
This is an open secret that Memogate was the third vicious attempt to isolate Army from highly sensitive national security related matters, coinciding with US interest in terms of a regional set-up with Pakistan tailing behind India. Haqqani's efforts to introduce clauses in Karry – Logar bill which would effectively bulldoze our security operations to counter Indian plans and allow deeper foreign leverage over functioning of intelligence networks.
Haqqani's next attempt was to compromise Pakistan's internal stability, by allowing Visas for hundreds of CIA agents from Pak.embassies in Washington and Dubai, bypassing scrutiny of sorts by Pakistan. In both attempts Haqqani and his bosses tried to undermine the constitutional and professional role of Armed Forces and sided with US interests.
Memogate was the third attempt , recurrence of previous both malicious acts and even if we forget about Karry-Logar bill and Memogate, Visa case is something proved compromise on national security, in violation to established procedures and civilian-military agreed policy on war on terror. Mr. Haqqani faced questions on visa cases too and failed to prove any point, If he is grilled properly, he will spill more beans to Mr. Sethi's relief. He is already a convict.
Mr.Sethi calls Mansoor Ijaz "the author of memo" but Mansoor Ijaz himself claims to be a "typist" only in memogate saga but Mr. Sethi knows better. He is displeased with Mansoor Ijaz for siding with Army at this decisive moment, telling us that Mansoor is the person involved in attempts to lure Americans to strengthen the civilian government and pressurize army and according to Mr. Sethi, Mansoor Ijaz ended with opposite to what he intended ? Here is a cool trick of him, spinning all the way around. Mansoor Ijaz and Haqqani both have been authors to anti-army articles in the past. Army doesn't have much love for him.
Haqqani and Mansoor are similar on demerits. Mansoor Ijaz has financial interests in US and he will not make it odd with them. Same is Haqqani, flying high on US wings. Mansoor Ijaz had no idea that American would have ignored the memo. In my view he would have been rather happy to favor Haqqani and Zardari in keeping generals under thumb, so very confidently he went on in Financial Times, to be witness on record to a history making drama. After his article in Financial Times, Army began its own investigation and informed its friend Zardari to find the truth as well. Presumably, the guilty got nervous and the word leaked, whispers in Islamabad changed into a buzz not so late. PPP took stand of denial firmly and posed innocently uncaring about the issue.
As Mansoor Ijaz found the real situation opposite to his initial thinking, anybody in his place would have tried to find a safe exit, so he volunteered to cooperate with the army which seemed to have upper hand. The logics don't suggest Mansoor Ijaz ditching Haqqani or Zardari but American inaction turned tables on them and Mansoor was supposed to use the flip side of the famous memo.
Mr. Sethi then moves to petition of Nawaz Sharif in Supreme Court for action. He concludes that this will result in opposition's propaganda and embarrassing questions about Mr. Zardari, General Kyani and ISI chief Mr. Shuja Pasha. Here, he fixes wedge into crack by bracketing Zardari who is supposedly "the boss" in the memo, with General Kyani and Mr. Shuja Pasha, who are chasing the culprits. Will it create misunderstanding between Nawaz and men in uniform ? definitely not because Nawaz, too wants to expose culprits. As judicial proceedings will move forward, perhaps we see Mr.
Sethi taking line of Babar Awan, about the Supreme Court because he has been promoting an idea lately that Army and Judiciary may join forces to oust Zardari. So, even by jumbles of sorts his mind is busy weaving more confusions for future. He already claims in his article that "evidence on ground is tenuous", though he is miles away from Haqqani's Computer and Black Berry. Don't know when the court proceeding takes place but Mr. Sethi has a verdict to offer beforehand.
Najam Sethi Pictures
| | | | |
| --- | --- | --- | --- |
| | | | |
| Najam Sethi … | | Salman Taseer with TV … | |
Najam Sethi Videos