Pakistani Singers and Bands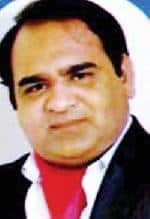 Mujeeb Aalam February 4, 1948 was a Pakistani playback singer who had a short film career. His singing style was a mixture of Mehdi Hassan and Ahmad Rushdi's style. He sang dozen of hit songs in late 1960s and remained popular with cinema viewers. However, he lost his popularity in mid 1970s as more versatile singers like Akhlaq Ahmed and A Nayyar entered Pakistan film industry.
Career
Mujeeb Aalam was born in Kanpur, Uttar Pradesh, India in an Urdu speaking family. He started his film career in an unreleased film "Nargis" in 1964 but "Jalwa" (1966) was his debut film with a super hit song: "koi ja ke unn se kehdey" which was picturised on Darpan. Unfortunately, he got a short film career and was ignored by film musicians from the mid 1970s. His song tally is under hundred film songs.Mujeeb Alam lived in the long shadow of highly successful Pakistani singers in the mid-sixties. However, soon he made his own distinct way into the world of music. Essentially he was a very humorous person. He loved to exchange jokes and made friends easily. The song which brought over night fame for him was "Wo meray samnay tasweer banay baithay hain" (film: Chakori:1967, director: Ehtesham, composer: Robin Ghosh) Mujeeb won the Nigar Award for this song. Moreover, Mujeeb was highly successful in romantic scores as well. He recorded songs with almost all female singers of his time and all those duets were mega-hits.
Death
Mujeeb Aalam was retired from films since 1979. He used to participate in private shows and musical programmes which were broadcast from Pakistan television and other channels. Mujeeb resided in Block J, North Nazimabad, Karachi, for quite some time. On Wednesday June 2, 2004, he suffered a heart attack in Karachi, which ended his life. He was 56 years of age.
References
I could not forget that brilliant rendering of Faiz's Iss dhoop kinarey sham dhaley! Mujeeb Alam sang it for A.J. Kardar's Qasam Uss Waqt kee, released in 1969, with his warmly vibrant voice that spoke volumes about the mix of dear wishes and secret sorrows that burgeoned in the bosom of all the truly patriotic Pakistanis at the fall of Dhaka. The song was composed beautifully by Suhail Rana. One can appreciate the versatility of this superb playback that he sang another totally different ditty in the same film, QUWK, which was the title song, Qasam uss waqt kee, written so fabulously by Josh Malihabadi. It was this undeniable talent that spelled Mujeeb Alam's genius. The pathos and the vibrancy of his vocals hit anybody first up, the moment you listened to him.
Mujeeb died on June 2nd, 2004, of a heart attack, but his ailment was not just car­diac arrest. Mujeeb felt denied. He felt unstable due to a lack of expression and exposure. He felt so depressed because he was still in sur, and yet he was not able to voice his appeal through his songs to talk of these times. He was full of that same melody, that warmth of life that turned the decibels into messages. Yet, the media was deaf to all his brilliant numbers. A year ago. when I first visited him in Liaquat National, he was in distress and had the doctor's strict order not to talk too much, but when he saw me, he just kept on complaining that I never told him Talat Mehmood was my uncle. He for­got his own pain, and his eyes shed saline water, and he kept on repeating, "It is a criminal act, from you that you never told me you were Talat Mehmood's nephew. He was my roohani mentor, he made me what I am today. Listening to Yeh hawa ych mat yeh chandni and other such songs, and singing along with those numbers made me Mujeeb Alam. Yet, you plain forgot to tell me that you are closely related to him!" I felt almost embar­rassed, because there were many patients in the ward and there were doc­tors and nurses hustling along. They were all looking at us. But, Mujeeb Alam forgot his own sufferings and kept shaking his head. "You didn't mention such a treasure that belongs to your family!"
Within six months, I had to rush back to the hospital, because he had had another heart attack. Governor lshratul Ibad had given him some amount for treatment, but that was chicken feed for the sort of fundings needed to pay hospital and medicine bills, and operational procedures. I wrote about him to get the attention of the health ministry and the governor to make a recom­mendation to Radio Pakistan or PTV to constitute a musical committee, where the senior singers could be employed on a regular amount, where they could organize music shows, introduce young singers, look after poorly paid folk singers, etc. But why would the government care for the artistes? They only sing the tunes of their paymasters!
Mujeeb Alam was not much different from the brilliant Indian singer, Manna Day, who always remained under the shadows of Rafi and Kishore, although he was a classical musician. Mujeeb also had to play second fiddle to Ahmed Rushdi and Mehdi Hasan. Mujeeb not only had a beautiful voice for sad songs, he was equally brilliant in romantic numbers. He burst onto the film scene with Nashad's uncannily composed and arranged number from film Jalwa, in 1966, which was phrased Koi ja ke unse kehde / hamein yoon na aazmaein. It was a memorable song, picturized on Darpan, in a mehfil, and Mujeeb just excelled at it. His number, Roothi roothi huee masoom nazar, in Mohsin Shirazi's detective flick, Jaan Pehchan was liked, not only because of good composition by Muslehuddin, but also due to his nice rendition. Then he had another hit in Ehtesham's Urdu movie, Chakori, with Robin Ghosh's melodious Woh mere samne tasweer baney baithey hain, filmed on Nadeem. His solo hits like Main khushee se kyoon na gaoon (Lori), Ae jaan­-e-aarzoo tujhe kaise bhulaein hum (Jaan-e-Aarzoo), Main tere ajnabi shehr mein and Main tera shehr chorr jaoonga (Shama Aur Parwana), Dunyawalo tumhari dunya mein (Saughat), Kisi ke bechain dil kee dharkan (Main Kahan Manzil Kahan), Yeh phool hai ya sitara koi bata de mujhe (Pyasa), Yoon kho gaey tere pyar mein hum (Afsana), Zara tum hee socho (Dil Deke Dekho), etc. were hot favorites with the people. His top-notch duets include Too chanda hai mera (Bequsoor), Badlon ke taley (Shama Aur Parwana), Urrta hua waqt thaam lo (Yeh Aman), Kho gaey tum kahan (Jangli Phool), Meri Jaan meri hamsafar na ro (Doosri Shadi),Hari hari rut aaee sawan kee (Main Zinda Hoon), Aa re aa re dil ke saharey (Dosti), Aaja pyari nindya (Majboor), Sathi kahan ho (Lakhon Mein Aik), Wafa ka wadah hai kis ne torra (Jawab Do), Mujhe Jaan se bhee pyara (Dillagi), etc.
Mujeeb Alam Pictures
| | | | |
| --- | --- | --- | --- |
| A Loving Tribute to Mu … | Mujeeb Alam … | | |
Mujeeb Alam Videos