Chairman All Pakistan Textile Mills Association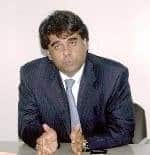 Mr. Gohar Ejaz is a seasoned Industrialist and Public Figure. He is the Son of Senator Sheikh Ejaz Ahmed (late). He is a Qualified Business graduate and one of the resourceful personality in Pakistan. He is the Chief Executive of "Ejaz Group Of Companies" comprising of Ejaz Spinning Mills Limited and Ejaz Textile Mills Limited.
He is also Chief Executive of "The Lake City Holdings (PVT) Limited" a 2000 acre resort / residential project, planned at 13 km on the outskirts of Lahore, with an 18-hole PGA golf course & 8000 luxury bungalows/villas, also featuring Sinuous Lakes, Landscape Architecture, Parks and Pavilions, Civic Amenities and Shopping Malls.
He has been elected unopposed as Chairman, All Pakistan Textile Mills Association (APTMA) for the term 2010-11. As a Chairman of APTMA, his achievements are notable.
Karachi: All Pakistan Textile Mills Association (APTMA) Chairman Mr. Gohar Ejaz is awarded with Hilal-e-Imtiaz, the highest civilian award, on Pakistan Day, said APTMA spokesman.
He said the award is conferred on Chairman APTMA for his selfless, dedicated and successful espousal of the cause of the industry for provision of essential wherewithal for optimizing its contribution to the economy and general welfare.
Mr. Gohar Ejaz has galvanized the industry to proceed forward with unison turning adversity to a unifying and energizing force, he added.
According to the APTMA spokesman, Mr. Gohar Ejaz has been vocal and fearless voice of the industry, exclusively motivated by the patriotic desire to contribute to national good and well-being.
He said his successful representation for securing a free market operating regime brought benefit in the shape of increased production and enhanced textile exports that reached a record $13.9 billion during outgoing fiscal 2010-11. Ensuring of the free market mechanism, he said, brought much benefit to the value added sector and resulted in a resource transfer of Rs350 billion to the farm sector of the cotton economy.
Also, he said Mr. Gohar Ejaz has successfully fought to save the industry from gas and electricity supply disruptions. Further, he said, zero rating for the textile industry value chain and exports is another area where his persistent representation saved the industry from the hassles of obtaining refund and contributed positively to the economy.
APTMA spokesman said notable are the efforts of Mr. Gohar Ejaz in establishing forum for top notch research as centres of excellence for the vertical and horizontal growth of cotton in Pakistan.
He said Mr. Gohar Ejaz's vision for an interest rate regime that is globally competitive has its own merits and is all to lead to increased industrial investment and growth when permitted internationally and provided domestically.
The spokesman added that Mr. Gohar Ejaz's vision for increasing industrial output to bring about increased exports tot eh tune of $25 billion by 2015, $1 billion investment per annum and one million new jobs etc. has given direction to and has set the course for public planning accordingly.
Mr. Gohar Ejaz Pictures
| | | | |
| --- | --- | --- | --- |
| … | | | |
Mr. Gohar Ejaz Videos