Malika Pukhraj Ghazal and folk singer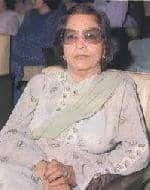 Malika Pukhraj was born in village Mirpur16 miles from Jammu and 55 miles from Akhnoor – over looking Jammu River. She was Malika with the blessings of a "Majzoob" Baba Moti Ram and named Pukhraj by her Aunt. Her father neglected family affairs but mother insisted to get her educated. They shifted to Jammu Town where she learnt Urdu and Persian from a distant uncle Gulzar Hussain Shah. She also read Fasana-e-Azad and Ratan Nath Sarshar. She had melodious voice from childhood. She received music lessons in a Delhi sojourn from very strict Ustads. – arduous "Nirith Bhav". One of her teacher has been quoted as Ustad Mubarik Ali Khan. Father of Bare Ghulam Ali Khan Sahib also nurtured her. At the age of 9 appointed at the Darbar of Maharaja Hari Singh of Kashmir. She remained there for nine years – performed at the coronation ceremony of the Maharaja.
Early life
Malika Pukhraj, was born in village Mirpur, on the banks of the River Akhnoor, 16 miles from Jammu, British India, and as she grew up her mother moved to Kanak Mandi area of Jammu, where she spent early years of her life. She was given the name "Malika" at birth, by 'Majzoob', 'Baba Roti Ram, a spiritualist, in Akhnoor area, and named Pukhraj by her Aunt
Malika Pukhraj received her training from Ustad Ali Baksh Kasuri, father of legendary singer Ustad Bade Ghulam Ali Khan.
Abhi to Main Jawan Hoon…..!
Malika Pukhraj (b1912 – 4Feb 2004) was a highly popular singer of Pakistan. She was generally called as "Malika" meaning "The Queen." She is extremely popular for her rendition of Hafeez Jalandhri's song, Abhi to main jawan hoon ("I am still youthful"), which is enjoyed by millions not only in Pakistan, but also in India. Her popular numbers were,Lo phir Basant aayi and Quli Qutub's Piya baaj piyale piya jaye na and Faiz Ahmed Faiz's Mere qatil mere dildar mere paas raho. Malika Pukhraj, was born in village Mirpur, on the banks of the River Akhnoor, 16 miles from Jammu, and as she grew up her mother moved to Kanak Mandi area of Jammu, in present Jammu and Kashmir, where she spent early years of her life, she was given the name "Malika" at birth, by 'Majzoob', 'Baba Roti Ram, a spiritualist, in Akhnoor area, and named Pukhraj by her Aunt Malika Pukhraj who was coached by Ustad [Ali Baksh Kasuri-father of Bade Ghulam Ali Khan]. At age nine, At nine she visited Jammu and performed at coronation ceremony of Maharaja Hari Singh, who got so impressed by her voice that she appointed a court singer in his Durbar, and stayed there for another nine years .
Malika Pukhraj in 1920s in Kashmir
Over the next 8 decades she captivated her audience with her command over the singing genres of Thumri, Ghazal, Bhajan and folk Pahari Geet, including Dogri folk songs . She was among the greatest singers of British India in the 1940s, and after Partition of India in 1947, she migrated to Lahore, Pakistan, where she received further fame, through her radio performances with composer, Kale Khan. In 1980, she received the Presidential Pride of Performance Award, Pakistan. In 1977, when All India Radio, for which she sang until Partition, was celebrating its Golden Jubilee, she was invited to India, and awarded with the 'legend of Voice' award. Malika Pukhraj also recorded her memoirs in the novel Song Sung True. Malika Pukhraj, died in Lahore on February 4, 2004. Her funeral procession started from her residence West Canal bank, and she laid to rest at her ancestral 'Shah Jamal' graveyard in Lahore. Malika Pukhraj was married to Syed Shabbir Hussain Shah, a Government Officer and had 6 children, including Safiea, her eldest daughter; Tahira Syed, one of Malika Pukhraj's two daughters, emerged as a well-known singer in her own right. Her other daughter, Tasneem, is married to famous lawyer and senator S.M. Zafar. Her eldest son Tauqeer lives in Model Town, Lahore, and his wife Shahnaaz, her other son is, Maj. (R) Syed Tanveer Hussain.
This scribe tried to interview Mallika Pukhraj after the show but she held up her still dainty hand with the exclamation that the performance had tired her and she would expect people to judge her on the basis of hunar-e-mosiqui (talent of musical diction) to convey all that she had to say and stood for. Tahira was more forthcoming, her pretty face making her views and feelings more expressive as she spoke about her mother's love for India and the Dogri culture which she missed very much in Pakistan. After that brief meeting with Mallika Pukhraj one couldn't help drawing comparison with Begum Akhtar. To Jigar Moradabadi and Josh Malihabadi she was bulbul-ki-awaz, the sweet voice of the bulbul. Both were among the Begum's intimate friends who knew her even before the days when Munna Khan played the tabla at the Chowk in Lucknow, where she and her mother shared a kotha during the early years of World Wa
Malika Pukhraj Pictures
| | | | |
| --- | --- | --- | --- |
| dogri pahari song by M … | Malika Pukhraj Being I … | Malika Pukhraj with he … | malika_pukhraj1 memori … |
| Malka Pukhraj old Pict … | | | |
Malika Pukhraj Videos