Commerce minister of Pakistan, Vice-Chairman of the PPP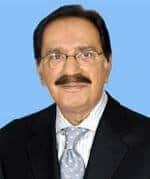 Makhdoom Ameen Faheem was born in Makhdoom family of Hala, which is located 200 km off the southern port city of Karachi, on August 4, 1939.
Talib-ul-Mola
His father Makhdoom Muhammmad Zaman "Talib-ul-Mola", the spiritual leader of Sarwari Jammat of Pakistan, was one of the founding members of the PPP in 1967. Talib ul Mola was a great poet and was elected MNA from the same area as his son. Later, Makhdoom Muhammad Zaman was also offered many high posts in the time of General Muhammad Zia-ul-Haq, but he refused and chose to stay in Hala and look after his Sarwari Jamaat.
Education
He did his matriculation in 1955 and intermediate in 1957 in his native town Hala. In 1958, he got admission in political science department of Sindh University, and completed his bachelors in 1961

Political career
Election 1970 to 2008
Ameen Faheem entered in the political arena in 1970 when he was elected as member National Assembly from southern Thatta district of Sindh province. Since then, He has so far contested seven elections in 1977, 1988, 1990, 1993, 1997,2002 and 2008 and remained undefeated. He, however, boycotted the non-party elections of 1985 held by General Muhammad Zia-ul-Haq-led military regime in line with the decision of his party.
In the second government, Faheem was
Minister for Housing and Works January 1994 – November 1996.

Offer by G.Pervez Musharraf
Makhdoom Ameen Faheem, never regrets his decision to turn down a clear-cut offer to become the country's prime minister on the condition of parting his way from his leader, Benazir Bhutto (late), former Prime Minister and Chairperson of Pakistan Peoples Party (PPP), one of the largest political parties of this South Asian Muslim state.Faheem was the Vice-Chairman of the PPP, and was also the Parliamentary Leader of the same party in the National Assembly.
Corruption Allegations
Amin Fahim has been involved in the NICL Multi Billion rupees scandal.[1] Many party members of various political parties of Pakistan are embroiled in such kick back schemes. National Accountability Bureau NAB was created to tackle such issues. Although not a complete success, it has assisted ruling parties in detaining rival party factions.
Amin Faheem's son , Makdhoom Najeeb, has been barred from traveling out of U.A.E. due to bounced cheque.He was told to report to the Jebel Ali Police Station, as there was a case against him for a bounced cheque, which he gave to a Free Zone authority as part of a business deal. It was then discovered that the Free Zone Authority had erroneously presented the rent cheque to the bank even though the offices for which it had been given the Post Dated Cheque had already been handed back to the Free Zone authority a month earlier. The Free Zone apologized and lifted the case on him immediately.

Sarwari Jammaat
Makhdoom Ameen Faheem is also the leader of the largest spiritual group of people called the "Sarwari Jamaat" in Pakistan, consisting of more than 6 million people across the world, it was recorded that Sarwari Jamaat consisted of 1 million people 300 years back "No lakhi Gadii", but gradually expanded to the current number.He is a landlord and leader of a social democratic party, as well as a Sufi divine (Sarwari Jamaat).
Career after Benazir Bhutto
Makhdoom Ameen Faheem was mentioned as a possible chairman for the PPP in the wake of the December 27, 2007 assassination of Benazir Bhutto, but Bilawal Bhutto Zardari and Asif Ali Zardari were named party co-chairs and Faheem was considered the party's probable candidate for Prime Minister. However, the PPP hesitated to name Faheem as its candidate following its victory in the February 2008 election. It was suggested that Asif Ali Zardari might be reluctant to nominate Faheem as Prime Minister because he is worried that Faheem could strengthen his political base in Sindh and threaten the influence of the Bhutto family there.

Commerce minister of Pakistan
Later, the PPP nominated Yousaf Raza Gillani as Prime Minister on March 22, 2008. Although this was viewed as a snub to him, he said that he would not leave the PPP and had the "best wishes" for Gilani. Faheem, however, was made the Commerce Minister of Pakistan in November 2008 shuffle as a consolation.

Poetry is my first love
"Poetry is my first love. I am still fond of saying verses and reading poetry of others," Faheem says.
His forte is mystic poetry. His poetry speaks about love, peace, and simplicity.
"I have always been fond of the poetry of Maulana Rumi, Shah Abdul Latif Bhittai, and Sachal Sarmast. Their poetry has left a deep impact on my life. I have learnt from them (poets) to be loyal to your loved ones in good or rainy days,"
He says. "I don't believe in ruling the people. I believe in ruling their hearts. That is why my voters love me, and they never disappointed me,"
Initially, he was more interested in poetry than politics. However, he had no choice but to jump into the fray as the political heir of Makhdoom family.
Makhdoom Muhammad Ameen Faheem Pictures
Makhdoom Muhammad Ameen Faheem Videos