Khalid Abbas Dar started his broadcasting career in a children's programs as a child prodigy in 1955, and the Punjabi Radio programme 'Sohni Dharti'. The programme is also loved by the Punjabis across the border. In it, he portrays an innocent villager Mehtab Din, now a household name of Punjabi listeners.
Career
Mr. Dar is the progenitor of the "one-man show" and the art of mimicry in the country. For his natural aptitude for mimicry and one-man show, he was awarded 'Role of Honour'(1966) by the Government College Lahore, the first and last to be so honoured during the one & a half centuries. He won the best entertainer's award from PTV. He is the only artist to do so. He was also awarded Sitara-e-Imtiaz and Presidential Pride of Performance by the Government of Pakistan.
Mr. Dar has written for theatre and TV. He has taken his drama production practically to all the major cities of USA, Canada and Europe where he enjoys an excellent reputation. He has been practically an Ambassador of Culture by projecting culture, hopes, aspirations, feelings for fraternity amongst nations and projecting a soft image of Pakistan.
The first time Khalid Abbas Dar appeared on television, way back in the early 60s, his mother did not recognize him. Recorded in black and white, the actor appeared in an impersonation show. Sometimes Dar was seen as a police inspector, at other times he was imitating as a beggar and depending upon the theme of the television show, he would change his guise accordingly. At long last when the parents did find out about their sons primary activity, it was time for an ultimatum.
Khalid Abbas Dar chose the or else option and remained constantly at odds with his parents in whose opinion TV, theatre, and radio were disreputable professions not befitting the son of an Islamia College professor. But Dar had discovered himself through all those socially unacceptable avenues of expression. Five decades and inestimable theatre, TV and radio performances later, he is the only performer in Pakistan with the ability to carry a one-man show for over two hours.
`I have never even once regretted doing what I do. Times have now changed. People belonging to educated families encourage their children to become actors,says Khalid Abbas Dar
Dressed in white kurta shalwar, a bespectacled Khalid Abbas Dar gave his first interview to Images in his characteristic style of enlivening Urdu with Punjabi witticisms. Describing the mundane relationship between his mother and himself, he described his ammas shock at finding out that her son was more interested in the theatre performances at Lahores Central Model School, from where he did his matriculation, than what it had to offer academically.My mother wanted me to be a doctor. Every mother wants her son to be a doctor to save on the doctors fee because mothers are always ill. My mother had a similar ambition. But since the first time I tuned into radio, it became my fascination, says the incomparable artiste.
Later, during his Government College days, he realized that the institution helped him to refine his persona for theatre performances. I wasn't the sort who would give in to family pressure to let go of the one thing determining my existence. In the early 60s my role as a professional had taken shape. I was performing on stage, radio and TV and was ready to pay any price to acting identities, says Dar.
A preview to Khalid Abbas Dars credibility as an original performer was visible in his narrative of how his entire family left disgruntled for England after disowning him. All of them packed and just left. They were sharif (decent) people. I was the only deviant in the family. Even now my brother and two sisters are ashamed to acknowledge my relationship with them.
Radio
Dar started his professional career in 1955 as child performer (singing & acting), becoming famous overnight.
After he continued with radio, he was known as a well recognized adult voice in dramas. His special accomplishment on radio being associated with Nizam Din daily for 14 years as an extempore companion and alter ego Mehtab Din.
He was sent by the radio to the cities and towns to listen to the people's problems and tried to resolve the problems highlighted in his programme.
Television
His reputation from radio and theatre led to a career in television, where he performed leads in innumerable independent plays and serials, such as Sadhran, Jazeera, Kahani Ki Talash, Zanjeer, Jheel, Fifty Fifty, Panchoon Ghee Mein, Shaadi Key Saath Saath, Parchi and many more.
1. Nawab Ameer Mohammad Khan of Kala Bagh, Governor of West Pakistan.
2. Field Marshal Mohammad Ayub Khan, President of Pakistan.
3. General Musa Khan, Governor of West Pakistan.
4. General Yahya Khan, President of Pakistan
5. Ch. Fazal Elahi, President of Pakistan
6. Mr. Zulfiqar Ali Bhutto, Prime Minister of Pakistan.
7. His Majesty, The Shah of Iran.
8. General Mohammad Zia ul Haq, President of Pakistan
9. His Royal Highness, Prince Hassan Bin Talal & Her Royal Highness Princess Sarwat Talal.
10. Mr. Mohammad Khan Junejo, Prime Minister of Pakistan.
11. Mr. Mohammad Nawaz Sharif, Prime Minister of Pakistan.
12. Mr. Ghulam Mustafa Jatoi, Mr. Balkh Sher Mazari, Mr. Meraaj Khalid (Care Taker Prime Ministers of Pakistan).
Mr. Dar was responsible for the production of cultural show presented to 45 Heads of Islamic States during Islamic Summit Conference in February 1974 at Lahore Fort.
Theatre
In late teens, he also started performing in theatre, later becoming a writer, director and producer. His excellent reputation was pre-assured by his one-man shows and his art of mimicry.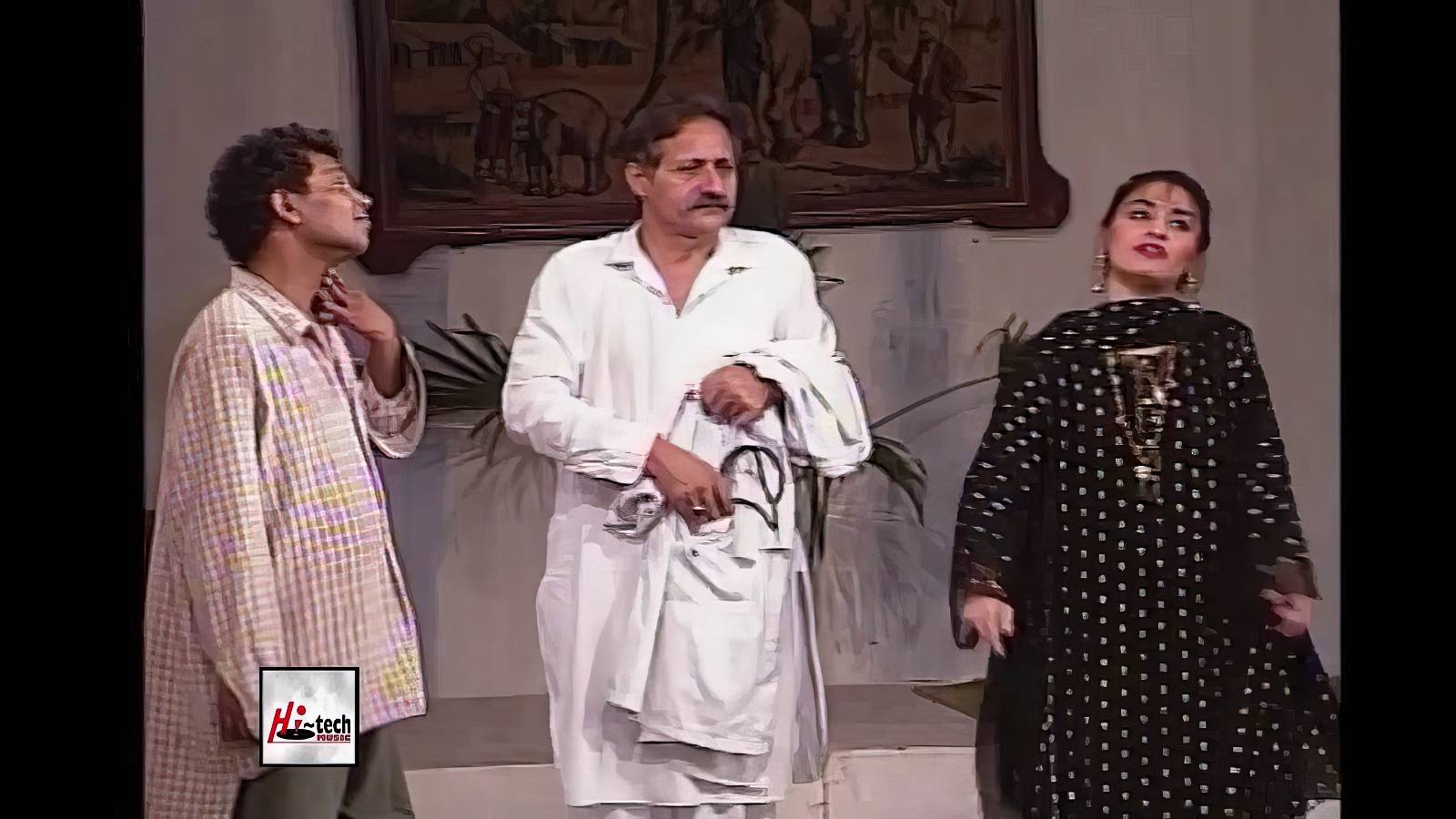 He continues to be a dominant force with his versatile performance in comedies as well as serious plays, writing on various themes and directing with innovations. He has been one of the vanguards in the establishment of theatre in Pakistan. His admirers are found both among intellectuals and the masses who love popular entertainment. His ability to sustain the interest of his audience over long periods is remarkable.
Film
Khalid Abbas Dar has performed in 33 films, which was highly adored by the masses.
Performing For Pakistan Army
After ceasefire of 1965 Indo-Pakistani War, he was asked by the GHQ authorities with cooperation of All Pakistan Music Conference to go to the front lines with country's best singers like Mehdi Hassan,ustad Amanat Ali Khan & Fateh Ali khan, Masood Rana,Ustad Salamat Ali Khan,Ustad Nazakat Ali Khan, Tufail Niazi, Naseem Begum,Malika Moseeqi Roshan Ara Begum,Shahjahan Begum and many others,to entertain the brave defenders of the country. The first two concerts were held in hospitals for wounded soldiers.
These were followed by 33 more, mostly under field conditions where pitched battles had been fought. One of these witnessed by General Musa Khan and the last by the President of Pakistan Field Marshal Muhammad Ayub Khan at Ayyub National Park on 20-Sep-1966. He entertained more than half a million soldiers of Pakistan Army, Airforce & Navy with his brilliant performance. One memorable concert was held on INS Sarswati(captured by Pakistan Navy) where Admiral A.R Khan Head of The Pak Navy witnessed the show.
Info & Edutainment

Established in 2005, Mr. Abbas Dar Kalid 'drop' his own production and began to produce information, education and entertainment playing with the cooperation of Pakistan, Ministry of Health. PTV drama serial in 'Shady Kay their house their home ", which can be called a comedy of education, achieved its goal if you go by chart popularity, and the fact that he was able to get its message across to ordinary people in the country.
He said that the purpose of the serial drama is to make people know how to deal with a serious disease such as polio. In other words, it's a game that educates, also gives a lesson morally. 'Shady Kay their house their home "to create awareness among married couples that they could save the country's future by giving their children with polio drops sage. It would be interesting to note that the Government of India had been assigned the task similar to Amitabh Bachhan Bollywood Mega Star. Mr. House said that his house had achieved a production target fixed during the production of this serial drama. The company tried to use a method of contemporary propaganda to put its message as effectively as possible.
Mr Dar's another big production was a motivational stage play 'ZARA SI BHOOL' which was presented on theaters across the country with also the cooperation of Pakistan Health Ministry. More than 100 shows of this drama was presented in al districts of Punjab,Sindh,Baluchistan, NWFP & AJK.
The most famous artists of country like Qavi Khan, Hamid Rana(Sona), Abid Kashmiri,Krishma Mughal,Mumtaz Zareef and others with Mr. Dar outstandingly and very effectively delivered preventive messages without allowing people to lose interest in the play. Theater performance was a rich mix of entertainment and education. The event attracted a large number of participants ranging from youth to representatives of NGO's working on the issued of HIV & AIDS. In each city almost 4,000 to 7,000 people attended the show, which included Nazims, district health management teams as well as stakeholders.
The MPA's and Ministers of Honourable Baluchistan Provincial Assembly watched the play and admired the performance of actors and the theme of the drama.