Former Chief C.P.L.C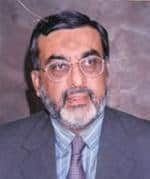 Mr. Jameel Yusuf Ahmed, the Chief of CPLC (Citizens Police Liaison Committee), a very vital organization presently serving the Karachi citizens to solve their problems related to law & order. Having experience of serving in various Ministries & in different slots, he is presently also the member of a very important body i.e. Focal Group on Police Reforms & Advisory Board, Interior Division, Federal Ministry of Interior, Govt of Pakistan. By occupation he is an Industrialist and also the Chairman of All Pakistan Paper Cone Manufacturers Association.
He was honored with Presidential Award of "Sitara-e-Shujaat" & won nomination for the first United Nations Vienna Civil Society Award 1999. He has also served as the Director, Asia Crime Prevention Foundation in Japan. Recently we were honored with his appearance at KalPoint.com where we interviewed him as "Personality of the Weekâ for the interest & benefits of our Netizens. He also visited Kalsoft (Pvt) Ltd. and KalVault (Pvt) Ltd, the two prestigious projects of Kalia Group.

Interview: Jameel Yusuf Founder Chief, CPLC

Q: There has been a lot of talk about crackdowns to address Karachi's problems. What is your view on this?
A: I am not bothered about crackdowns. I say please establish the rule of law. And what does the rule of law say? If there is a murder, you have to solve the case; if there is extortion and bhatta, it must be stopped.

Q: So by establishing the rule of law you feel things can be set right?
A: Just by enforcing traffic laws, the whole tempo of the city will change. There is no society in the world that can survive without the rule of law. Even in America, on the highways, people break the speed limit using the radio to warn each other of where the cops or cameras are, and they immediately slow down if they are near.
You don't see policemen on the roads there. Over here, it is the reverse. You see policemen on the roads and yet there is no rule of law.
We have actually lost the fear of the police and losing that fear is the worst thing that can happen in a society.

Q: Who can instil this fear and establish the rule of law?
A: The home minister and the chief minister.
Most of the people roaming around with tinted glasses and arms and ammunition are powerful people – all the influential people's children are roaming around like this. Tell them to either stay at home or go out decently.
Once you start taking action against them, the weaker ones will get scared.
Announcements are made claiming: 'We are going to conduct a heavy crackdown on tinted glasses and fancy number plates and people roaming with arms and ammunition,' and yet nothing is done. What message are you sending out? That please go ahead and do what you like, we are not going to do anything to you?
If you find anybody burning a car, hand him over to the police. Catch them and expose them. You do it once or twice and it will cease.
During his rule as governor, Moinuddin Haider had said, anybody caught burning a vehicle would be arrested and would have to pay the cost of the vehicle. And the police did actually catch them and make them pay for the vehicles. So everybody was cautious.
Right now the police is politicised. If they want to catch somebody, they need permission. The ruling party is not going to give them permission to catch their own workers, or those from parties they support, or with whom they are are involved in a bit of wheeling and dealing.
Q: How does one depoliticise the police?
A: You've got the Police Order, 2002, in place. Implement it in its true form.
The Police Order states that the police will be answerable to a public safety commission, which is supposed to be a tri-member team – this was my brainchild of the '90s but it materialised in 2002 with Musharraf. Chaudhary Shujaat, though, spoiled it. He persuaded Musharraf to change the rules.
Believe me, if the Police Order had been in place, even Musharraf could not have given illegal orders to mishandle Geo or manhandle the CJ. Neither could Nawaz Sharif have ordered the then Karachi police chief Maqbool Rana to arrest Musharraf on arrival from Sri Lanka.
Every ruler in this country has tried to use the police force as his personal brand of servants. Otherwise you have good institutions, good police officers.
Q: So politics and policing, and politicians and the police force need to be separated…
A: Yes, they need to be separated. The biggest enemy of this Police Order was the bureaucracy of Punjab. Punjab waged the biggest resistance, Sindh did not resist it so much.
Q: Because their clout would be undermined if implemented…
A: That's another mafia. The politicians want the police to work as their servants, and the bureaucracy wants to do the same. So they didn't allow the Police Order to be implemented. But now, with the current situation where over 1,300 people have been killed this year and hardly any arrests have been made, it is clear evidence that we need a depoliticised police force which is answerable to the community itself.

Q: And you believe this would happen with the Police Order, 2002?
A: Half of the public safety commission comprises elected people and half are nominated. This commission would be the first example where the leader of the house and the opposition are both represented. And if they are both represented then they both have to own the police.
Japan is the best model of policing – it has both the public safety commission and the police complaint authority in place. Their rate of conviction is 98%.
The 2002 Order also requires a police complaint authority to be set up. Anybody with a complaint against the police or who has been brutalised by them, can go to the authority. And there are severe punishments for police officials who are found guilty.
There also has to be a criminal coordination committee in which the session judge, the public prosecutor, the head of investigation SP and investigation officers are all supposed to meet every quarter and ascertain reasons as to why the conviction rate is going down.
Q: So after its implementation, we will not have parties complaining of how few SHOs they have and how many more their counterparts in the city have?
A: No, they would not. They would have no say in recruitment. The government has stated that the recruitment of a lot of the police officers was wrong. But who recruited them? They did, with their 'five is yours, four is mine, three is theirs' formula.
Jameel Yusuf Pictures
Jameel Yusuf Videos