Jamal Shah Actor, director, painter and a social worker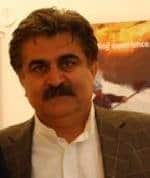 Jamal Shah is an actor, a director, a painter, and a social worker. He was born in 1956 in Quetta, Balochistan, Pakistan.
Education and career
In 1984 he established the Fine Arts Department at the University of Balochistan and headed the department for three years. in 1985 he formed the Artists Association of Balochistan and became the first Chairman of Artists Association of Pakistan.
Jamal Shah obtained a Master's in English literature from Balochistan University, Quetta, Balochistan in 1978 and in 1983 an NDA, National College of Arts, Lahore. He later obtained a Masters in Fine Arts from the Slade School of Art in London.
He is currently Director of HunerKada Academy of Arts in Islamabad, which he founded in 1992 and the brand ambassador for the production of Telenor TV did (Hunerkada Productions) latest film is the next "Girdaab".
His acting career has been littered with hits, as well as the famous mini TV series Traffik. Traffik earned nominations for six BAFTA awards and won three. The series also won the International Emmy Award for the best drama serial. Jamal also starred in the 1992 film K2, which was directed by Franc Roddam. In 2007, Jamal became the executive director of the Pakistan National Council of Arts. He is currently married to Amna Shah, after getting a divorce from his first wife, Faryal Gohar.
Being an actor, he performed in many TV series, as well as a small chain called Traffik famous produced by the channel in Britain about 4 illicit drugs, and the role of Pakistan, Germany and Britain in the transportation, production and use.
He has also starred in the film K2 from 1992, directed by Franc Roddam.
In 2005, Jamal Shah was responsible for the wing of the Pakistani section of the World Expo in Aichi, Japan.
In 2007 He became the Executive Director of Pakistan National Council of the Arts (PNCA).
Family
After a divorce from wife 1 has, Ferial essence, he is married now is to secure Shah, a former student and now teacher at the Faculty of Hunerkada of visual arts and theater, they are loving parents of 2 children, a daughter and the son of Mona Shah Mr. Shah Mayyan Mohummed
Shah Jamal is the uncle of Balochistan and the promising young artist based in Mubarak Shah
Jamal Shah Pictures
| | | | |
| --- | --- | --- | --- |
| Jamal Shah … | | | Jamal Shah speach … |
| Jamal Shah interview … | jamal Shah and wife … | Jamal Shah in office … | Jamal Shah in A Mornin … |
| Jamal Shah Best TV Act … | | | |
Jamal Shah Videos