Popular TV actor Iqbal Khan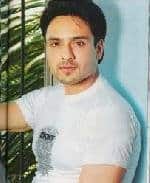 Iqbal Khan was born Mohammed Iqbal Khan youngest son to Mr & Mrs Mohammed Amin Khan. Iqbal's father served as an officer in the Indian Civil Service.Born on 10th February 1980, the last of four siblings he spent his younger years in Srinagar, Kashmir.Due to the unrest in Kashmir, his devoted parents, made the decision to send him to Pinegrove boarding school and Lawrence School Sanawar in Himachal Pradesh.
In his early interviews he has mentioned that one of the things that really make him smile is the memory of his school days.Iqbal Khan often in his interviews expresses his love for his family and work. A self confessed "workaholic", Iqbal had been working 16 to 18 hour schedules before the hectic time took a toll on his body.
Iqbal Khan married his girl friend Sneha Chhabra whom he had met six years earlier while shooting for a Falguni Pathak video, Mein Teri Prem Diwani . He had met Sneha once again when he was a struggling actor in Bombay. They have been together ever since. He has said that Sneha had stood by him during the most difficult part of his life. The two were married in January 2007
Ekta Kapoor in an interview to Karan Johar who is her friend on his show Koffee With Karan said that Iqbal Khan is the Shahrukh Khan of the Indian Television Industry.
Iqbal fans call him as Salman Khan of the Television Industry because he has a huge fan following all around the world.
Iqbal Khan dropped out of the Delhi College of Arts and Commerce in Chanakyapuri in order to pursue his career in the film industry.Like many models such as John Abraham, Iqbal Khan decided to go into the film industry after modeling. Unlike Abraham, Iqbal Khan did not do so well. His early movies Fun2shh and Bullet: Ek Dhamaka were flops, despite the presence of famous comedy actor Paresh Rawal in Fun2shh.
After a while of hardship, he tried out for the role of "Angad Khanna" for the Balaji serial Kaisa Ye Pyar Hai. The series attracted many fans, and Iqbal Khan gained a great deal of recognition through this production. His co-star Neha Bamb (who played Kripa Sharma/Khanna) and he were alleged to have bad relations. Neha, however denies it, but sources say Iqbal agrees that him and Neha are not quite the best of friends. Nonetheless, many agreed that their chemistry on screen was very good, hence they won the best couple award for a Sony TV Telly Awards.
Kaisa Ye Pyar Hai went off air October 5, 2006, allegedly due to either bad relations between the producer and the creative head, or the drop in rankings after a period of extreme popularity; Iqbal did not agree with Ekta Kapoor's practise of continuing to stretch out the length of the show.
Iqbal Khan went on to play the character of "Shaurya" in Kavyanjali and "Raghu" for Kahiin To Hoga, both serials produced by STAR Plus. After the ending of Kaisa Ye Pyar Hai, which was not only his debut serial but as he quoted, what made him a "household name", he went on to do another Ekta Kapoor serial: Karam Apnaa Apnaa, also on STAR Plus.
He plays the role of Shiv opposite Pallavi Subhash, who had a 30 second role in Tumhari Disha, a serial on Zee TV.He exited Karam Apnaa Apnaa at the end of 2006, much to his audience's disappointment. He stated that this was not due to any personality conflict between him and other actors or directors, but merely due to his desire to develop his career and spend more time with his fiancée.
However, now he back television with Choona Hai Aasmaan as an airforce officer by the name of "Abhimanyu Adhikari" in a serial produced by Miditech, the same company which produced Indian Idol 3 and Saara Akaash. Later on he did one more show is Zee TV named 'Waaris', produced by Smriti Irani's production house.
Iqbal Khan often in interviews expresses his religious beliefs. He fasts every day in Ramazan despite his overwhelming schedule. Being a "workaholic", Khan had been admitted to the hospital a couple of times due to stress and overloading work. Iqbal is married to Sneha Chabbra who works part time at a Call Centre. They had previously worked together in "Teri Prem ki Diwani". The two were married in January 2007, and went to Maldives for their honeymoon. Despite the stardom, he is very nice and humble person at heart and meets his fans warmly.
Iqbal Khan Pictures
| | | | |
| --- | --- | --- | --- |
| … | | … | … |
| Iqbal Khan with gitaar … | … | … | |
Iqbal Khan Videos