Haji Ghulam Ahmed Bilour (ANP)Federal Railways Minister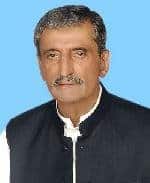 Haji Ghulam Ahmad Bilour (born December 1939)
Family
A Hindko speaker, a prominent businessman in Peshawar. The eldest of four brothers, his family is one of many political dynasties in the North-West Frontier Province.

Education
Bilour got his early education from the Khudad Model School and Islamia School Peshawar.He did his intermediate from Edwards College and got married soon afterwards.

Political career
Campaign of Fatima Jinnah
As a youth, Bilour participated in the election campaign of Fatima Jinnah.
Prison Record
In 1973, just after three years of joining NAP Haji Sahib was arrested and spent almost three months behind the Cell and again arrested this time he spent three monthsbehind the cell. In1974 he was arrested again. This time he spent almost 4 months in jail.
In 1975 and tourism projects PPP captured all four brothers including the Haji owner. Has been the destruction of the famous shopping center Baylor family. Baylor House was evacuated and the family was forced Baylor to unsheltered. After five months and was released. In 1976 he was arrested for the pilgrim to Baylor in the case of a conspiracy Hyderabad and sent to prison in Hyderabad, Sindh and spent two years in prison with Wali Khan, Khan Abdul Ghous Bazenjo Books, Mengal Attaulah, Afzal Khan Lala, employers, Khalil Iskander Khan and other senior leaders of the Awami National Party .
In 1982 he spent three months in prison Haripur. In 1983 and repeated the same injustice he and his brother Bashir Baylor once arrested and spent one year behind bare.
Stand on Kalabagh Dam
Baylor has a strong knowledge of the Kalabagh Dam project. Point of view is very clear about Kalabagh. He complains of young Pathan. He always used to say that young people do not know about the Bataan Kalabagh. Should get all the knowledge for this project, and should come forward to protest against it. Whenever you visit you will come to his office to find out how to do so significantly, which explains the entire project. In 1991 when he was appointed Federal Minister for Railways. He called on Prime Minister Nawaz Sharif in a meeting Kalabagh. Baylor said at the meeting: –
"Peshawar valley is surrounded by Hills from three sides. There is only one way out for water if you build a dam over that region then the water level will raise 24 feet above than the plan area of NWFP. As a result this province will become a lake where people will come to catch fished".
Once in London Shah Mehmood Qasori fall in a debate with Bilour on Kalabgh when Bilour cleared technical points to him, he was lets assign four engineers two from our side and two from your side, whatever they decided that will be acceptable to all. Bilour replied "You assign engineers I will debate from my side because I know each and every thing about Kalabagh.
PR has not yet Received the funds
Talking to media after inauguration of new bogies of Karakuram Express at Karachi Cantt Station, Haji Ghulam Ahmad Bilour said Pakistan Railways has not received a single penny out of Rs 11 million fund announced by the government. He said the government has promised 6.1 billion bank loans to Pakistan Railways.
Bilour said he has no transport business and he does not intend to start it in future.
Responding to a question, the federal minister said that General Manager Pakistan Railways Saeed Ahtar was innocent and he would be released soon.

Awami National Party
He, however, joined active politics from the platform of the Awami National Party (ANP) in the 1970s and ever since has remained with the nationalist party.He was a close associate of non-violent Pakhtun leader Bacha Khan he has been elected from Peshawar as Member of the National Assembly four times.
Time as Railways Minister
During his time as Railway minister, The Pakistan Railways seems to be speeding on a downward track. He has often been criticized for his gross incompetence, coupled with extreme arrogance as a Railway Minister. Instead of doing some practical work for the railways, he is in a habit of giving absurd logics. He was once quoted as saying, "Afghanistan and Saudi Arabia do not have Railways, why Pakistan should have it?" to which, many people counter argued that "A lot of countries do not have Ghulam Ahmad Bilour as Railway Minister, why Pakistan should have him?". Some people even think that Ghulam Ahmad Bilour, is actually bent upon destroying Pakistan Railways with the connivance of Transporter Mafia in Pakistan.
On Jan 18, 2012, while giving an interview to GEO NEWS, he said,[6] that the Railways did not have any money for fuel and had only two days worth of diesel left adding that lack of funds and engines were the reasons behind the downward spiral of Pakistan Railways, Geo News reported. He added that government had approved Rs 1.15 billion but the railways had not received any money till date. He said the biggest problem facing the railways was the lack of engines, and without those no revenue could be generated.He said that if the railways were to receive 400 engines than the deficit would end.
Believed next leadership
Ghulam Bilour is believed to be an aspirant for the party leadership after the present President Asfandyar Wali Khan completes his term in office.

Presently
He is currently federal minister for railways in the cabinet of Makhdoom Yousaf Raza Gilani.
Ghulam Ahmad Bilour Pictures
| | | | |
| --- | --- | --- | --- |
| … | Haji Ghulam Ahmad Bilo … | | |
Ghulam Ahmad Bilour Videos