Fawad Afzal Khan Pakistani Actor, Model and Singer.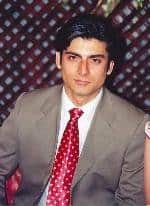 Fawad Afzal Khan is a Pakistani actor, singer and model. He is most widely recognized for his performance in the 2007 movie Khuda Kay Liye by Shoaib Mansoor and his widely popular drama aired in 2010, Dastaan and Humsafar in 2011-12. Khan is also widely known for being the lead singer of Pakistani rock band Entity Paradigm.
He married Sadaf Fawad Khan on November 12, 2005. He has a son, Ayaan Khan, who was born in 2008. He belongs to a Punjabi family and they currently reside in Lahore Pakistan.
Early Life
Fawad was born in Karachi. Fawad spent his early life in Greece, Manchester and Saudi Arabia and returned to Lahore when he was 12. Fawad has done A levels from LGS,afterward completed his Bachelors Degree in Electrical engineering from National University Of Computer and Emerging Sciences.
Debut
Fawad had been interested in the media business ever since childhood and his introduction into the world of show business was, as he puts it, "quite planned." [1] Khan's first public performance was in a high school play directed by a friend of his, Zain Ahmed. The play caught the attention of director Shahzad Anjum, who helped Fawad into the media world. Khan first found fame when he was 22-years old by playing bumbling spy role in Jutt and Bond which also starred his friend and co-band member, Ahmed Ali Butt. He and Butt started their band, Entity Paradigm, around this time.
Television serials and Khuda Kay Liye
Fawad starred in a number of drama serials until he was finally opted as the role Sarmad in the movie Khuda Kay Liye. The film was a great milestone not only for the Pakistani entertainment business, but for Khan as well.When questioned if Khan would favor stepping into Bollywood, he said "I will only go for it if it [Bollywood movie] is based on a quality project. Otherwise, Pakistan is my first priority, and I love working for my country."
In year 2008, Khan appeared in Anjum Shehzad's travel and adventure drama series Satrangi. Khan portrayed the role of an engineering student who hires a mini-bus and takes his six friend to a trip around the country. Khan had also wrote and sang the original soundtrack of the drama.
Fawad Afzal Khan is a Pakistani actor, model and singer. He started his music career from the band entity paradigm. He along with ali ahmed butt and zulifiqar.J. khan founded this band in Lahore. Initially entity and paradigm were two different underground bands. Ahmad ali butt was from entity and fawad khan was from paradigm. While working together in the sitcom "jatt and bond" they did a song "Humain Azma" together. In 2003 they released their debut album "Irtiqa". Some of the popular songs by this band are: "Waqt", "hamesha", "kahan hai tu", and "hamain Azma".
Fawad khan's debut film was "kuda key liye (in the name of God)". This film was written, directed and produced by the well known director Shoaib Mansoor. In this film he played the role of a young singer "sarmad" who was younger brother of mansoor (the lead role played by Shan). This film was a massive hit throughout the country.
Other than movies and music Fawad khan has also worked in several T.V serials. Some of the serials are "satrangi", "jatt and bond", and "jeevan ki rahoon main". In satrangi he played the lead role as "behzad". Behzad was one of the seven friends who went on a journey through Pakistan. They started their journey from Karachi and visiting all famous and popular places, ended it in Muree.
Fawad has been seen in various commercial advertisements for companies like Olper's, Pepsi and Mobilink Jazz. He has also walked the ramp for designer Muneeb Nawaz and in the following year Khan modeled for clothing brand Levi's Pakistan and fashion designer Ammar Belal.
In year 2010 Fawad's band, Entity Paradigm, which broke up around 2007, got reunited and performed Bolo Bolo in Season 3 of popular television music series Coke Studio. Later in the year EP also released their breakthrough album Shor Macha. In which the title track with strong patriotic message became relatively more popular. Khan, at the launch of the album, commented on the track, "The message is for people to stop complaining and start acting.
In the same year Fawad landed a lead role of Hassan beside actress Sanam Baloch who portrayed the role of Bano, in director Haissam Hussain's mega project Dastaan on Hum TV. Khan stated in telephonic interview with breakfast show, Morning with Hum, that Dastaan was a project that "could not be refused." The serial received a lot of praise from audiences and went on to receive many awards and nominations.
Fawad new series of the drama is an adaptation of the novel by Farhat Ishtiaq, and Humsafar. The cast includes Mahira Khan, Odho outdated and VJ turned actress Naveen Waqar. It was also scheduled to play Khan in the lead of other dramas Farhat Ishtiaq to take out the award-winning director Mhreinn Jabbar, Mata-E-Jian, but backed away from that because of scheduling conflicts. He is currently working on his next two projects Zindagi Hai Gulzar and Bandhan. Are produced both series by the managing director of production for TV hum, and will be broadcast in the first quarter of 2012. He also has a role in Aayegi Baraat Annie to the son, Sheikh Jawad, which will broadcast on April 7, 2012
TV Serials:
Dil Dey Kay Jayein Gey' (2000)
Satrangi (2008)
Jeevan Ki Rahoon Mei (2009)
Daastaan (2010)
Akbari Asghari (2010)
Humsafar (2011)

Movies:
Khuda key liye (Shoaib Mansoor)

Commercials:
Head and Shoulders(Shampoo)
Sprite Zero
pepsi twist
jazz
Talkshawk 2012
Fawad Afzal Khan Pictures
| | | | |
| --- | --- | --- | --- |
| … | … | … | … |
| … | Fawad Khan at PFDC LOr … | fawad khan wedding pic … | … |
| … | … | … | … |
| … | … | … | Omran Shafique with Fa … |
| … | … | … | … |
| … | | | |
Fawad Afzal Khan Videos