Farooq Hasan |Actor, Singer, Anchor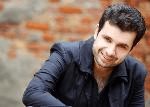 ACADEMICS
Born in Lahore, Pakistan on August 22nd, Farooq Hasan completed schooling from Saint Mary's Academy in Rawalpindi. After completing 'O' Levels in subjects covering all sciences, he opted for Humanities Group in Intermediate. After securing First Division in the main subjects of Mathematics, Statistics and Economics from FG Sir Syed College, Rawalpindi (Federal Board), he made it to the Merit List of Hailey college of Commerce, Punjab University, Lahore which is the biggest Commerce College in Asia. The bachelor's of Commerce Degree was completed successfully in 1992. This provided the perfect footing for him to clear the Entrance Test of Institute of Business Administration (IBA), University of Karachi, Karachi. IBA is the Largest Business School in Asia and a very well renowned world wide institution also affiliated with Wharton School of Business (USA). Farooq completed his Master of Business Administration Degree in 1994 with flying colors doing bi-majors in Marketing and Banking Specialization.
I feel my biggest passion is excelling in the field of arts especially show business. It helps me obtain my aims and objectives of life which are to be a good human being and learn as much as I can. It exposes me to different faculties which are thought provoking and makes me interact with different people from diverse backgrounds which serve as a big boost to my learning curve. Since I am a professional banker too and show business is my only passion, it takes its toll at times since banking is an equally demanding field. But I must say that over the years, I have learnt the art of time management, for which I am grateful to my IBA Dean and Director Dr. Wahab, for time management teachings. I enjoy both the fields and this keeps me going!" Farooq Hasan
EXTRA CURRICULAR
Being a typical Leo, Farooq was the School Prefect and Class Proctor throughout his Academic Career. Was a very avid sportsman and excelled in Cricket, Soft ball, Table Tennis, Football, Hockey and Dramatics. Remained Captain of School Sports Team of Byrne House, College Proctor and Table Tennis Team Captain in Sir Syed College and Punjab University. Represented these institutions in many tournaments in the respective sports. Was actively involved in Dramatics Society in IBA and became President of the same there. Also led the IBA Table Tennis Team for the Academic year that he was there. Became the Student Body (Banking Students Forum) Head and organized a number of Seminars and Functions during stay at IBA.
ACHIEVEMENTS
Jan 1995 – May 1996
Lecturer-Institute of Business Admin., University of Karachi, Pak
Teaching Assistant for the Course "Credit & Marketing" taught to MBA (Banking) Final Semester Students. Assisted Professor in Lectures. Held independent Lecture and Review Sessions. Prepared and Conducted Examination.
May 1995
Designed the ATM-Business System Proposal for ANZ
Feasibility for Installation of Two New Automated Teller Machines in Karachi, Pakistan which included Costing, Budgeting, Cash Flow Analysis, Marketing Plan and a Comprehensive Competitive Strategy.
2002-2003
Media Consultant Capital Police
Remained an active member of Islamabad Capital Police Citizen Committee and also the Media Consultant for Capital Police Force. This was an honorary assignment entrusted by the then Capital Police Chief SSP Nasir Khan Durrani. Arranged and Coordinated a host of activities related to Capital Police Force and also actively involved in setting up and initial functioning of 'Rescue 15" which is a first of its kind project of Police in Islamabad, Pakistan.

ACADEMIC AWARDS
First Position IBA-ANZ Grindlays Award Retail Banking
Second Position Finance of International Trade
Vice President-Banking Students Forum
Class Representative (IBA)
Captain IBA/ Hailey College of Commerce Table Tennis Teams
President-IBA Dramatics Society
School Prefect and College Proctor
Farooq Hasan Pictures
| | | | |
| --- | --- | --- | --- |
| Farooq Hasan … | With Salman Khan … | | |
Farooq Hasan Videos