Firdous Aashiq Awan Federal Minister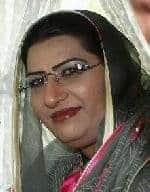 Doctor Firdous Ashiq Awan is federal minister for Information and Broadcasting of Pakistan. She was born on January 11, 1970 at Sialkot. Fardous Aashiq is an MBBS doctor.
She is elected member of National Assembly from NA-111 Sialkot-II on ticket of Pakistan Peoples Party.
She also served as minister of Population Welfare.Dr. Firdous Ashiq Awan wife of Mr. Malik Amjad Awan was born on January 11, 1970.
Education
Diploma in Hospital Management (DHA), South Atlantic University, U.S.A.
Bachelor of Medicine & Bachelor of Surgery (M.B.B.S), Fatima Jinnah Medical College, Lahore.
Political Career
Awan was elected to a reserved seat for women in 2002 on a PMLQ ticket and was even made a parliamentary secretary. However, in 2007 she resigned from the post and joined the PPP. She was elected from NA-111, Sialkot –II, by defeating Chaudhry Ameer Hussain, former Speaker of national assembly.She is serving as minister for population welfare.

Real face of Qureshi exposed: Firdous Ashiq
She stated Qureshi contested election after martyrdom of Benazir Bhutto and he was given the portfolio of foreign minister with the consent of President Asif Ali Zardari. Qureshi remained part of our government for three and a half year, she held. He started showing his action when ministry of his own choice was not allocated to him , she alleged.
"Qureshi himself has resigned from the party and party has not separated him. Behind the curtain facts were in the knowledge of government far before his resignation . But party was seeing he should do something on his own and his real face should be exposed before the people. On Monday he had done this job and his face has been exposed automatically, she underlined.
She went on to say that targeting party leadership was a wrong thing. Party workers had been hurt due to his criticism. Such things ill suit to a big personality. People join and quit the party. Whenever some one joins we will welcome him and whenever he quits party he has to face humiliation, she added. Look at Ghulam Mustafa Khar and Farooq Leghari and several names like them are before all of us, she maintained.
Qureshi is a political vagabond, she remarked. He should stay in one party, Information Minister said.
Replying to a question that Khawaja Asif of PML-N has said resignations are likely to pour in like rain within two or three months, she said democratic leaders and people want parliament should complete its tenure.
Right to vote for expatriates under consideration:Firdous Ashiq Awan
Minister for Information and Broadcasting Dr Firdous Ashiq Awan said the government was considering legislation to grant right of vote to Pakistanis living abroad. She was speaking at an Award Ceremony organised by the 14th of August Committee of Pakistani Community in Norway, which had announced a "Bridge Building Award" for Prime Minister Syed Yusuf Raza Gilani. Dr Firdous received the award on behalf of the Prime Minister. The award was announced in recognition of the Prime Minister's services for strengthening of democracy, promotion of human rights and his efforts for normalization of Indo-Pak relations.
Dr Awan acknowledging the role of millions of Pakistanis living and working abroad said they were an asset of Pakistan who were remarkably contributing to the national economy.
The Information Minister elaborated the sacrifices offered and the role played by Pakistan against extremists and terrorists, steps for protection of rights of minorities in Pakistan, incentives for increased investment, efforts for the uplift of less developed areas, efforts for strengthening economic ties with European Union, Pakistan's relations with China and the United States and measures for promoting inter-faith harmony.
She said Pakistan attaches great importance to its trade and economic relations with Norway. She paid tribute to the 14th of August Committee of Oslo for building bridges between the Pakistani Community and the people of Norway.
Killing Case of Nawab Akbar Bugti will headed- Firdous Ashiq Awan
Firdous Ashiq Awan said that the case of Killing of Nawab Akbar Bugti will headed under the consideration of Supreme Court of Pakistan.
In the conference she stated that "Prime Minister Syed Yusuf Raza Grilani and the federal cabinet took decision that a judicial commission headed by judge of the Supreme Court will investigate the killing of Nawab Akbar Bugti".
She Also said that we would give a message to youth of Balochitan that we government of Pakistan was serious about their problems. Moreover premier has directed 6700 posts of the federal government on Balochistan quota.
Fardoos Aashiq Awan Pictures
| | | | |
| --- | --- | --- | --- |
| Dr Firdous Ashiq Awan … | Dr. Firdous Ashiq Awan … | Firdous Ashiq Awan res … | Killing Case of Nawab … |
| | Real face of Qureshi e … | Right to vote for expa … | |
Fardoos Aashiq Awan Videos