Faisal Kapadia Musician/ Director Strings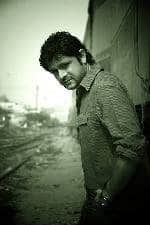 Faisal Kapadia is a member of the very popular Pakistani pop band Strings. Faisal was born on June 29, 1971 in Karachi, Pakistan. Growing up, he learned classical music, vocals, and guitar. He is married to Seema Kapadia and has 2 sons Armaan and Gibran. He is a Ismaili Nizari Muslim (Aga Khani) by faith.
Faisal Kapadia directed a number of music videos for his band. The success of the song sequences came in 1992 after the launch of the song Yeh Pahar Sar Kiye, an instant hit, and that was a camel. Chains to make its entry into the Bollywood music in 2006.
Interview
The world is going through strange turmoil. Wars make are making headlines with the lynch pin being the War on Terror. Under this banner, America attacked first Afghanistan and then Iraq and then Israel followed this year by bombing Lebanon. The myriad news channels, both foreign and homegrown, cover the real politick behind such decisions. In times like these, it often seems like Pakistani art is functioning within a rosy bubble of romance and froth.
In such drastic times, it was surprisingly pop sensation Strings who decided to make a simple yet effective song to portray the face of the new world. It is called 'Beirut' and it has touched both hearts and minds in Pakistan. With the country following the war so closely, it is a song that everyone can identify with. With a video that focuses on images from the war and taglines that give information on how many have died and how many others rendered homeless, 'Beirut' makes one think even as one is humming along to it.

Tell us about 'Beirut' – how did the song happen
Faisal Kapadia: In the morning a few days, Bilal (intentional) called me and said that we have to do something regarding the situation in Beirut. When you hear the word Beirut and Tyre thing that comes to mind is that of a war zone. And Beirut was always a kind of war zone. I got the city until a few years ago, and stable. But now, things go wrong again. Therefore, the two and we decided to do something about it. In addition, Ramadan is a month of the year where each and every one of us stop thinking about ourselves and start focusing on others. People think about others and their problems. We thought this was the right time to make a video of this kind.
Is it important for bands to make such statements?
FK: It is not about a band or an artist. The point is to create some form of awareness. The idea is to make others realise where we're going. The world is divided. In spite of living comfortably in our homes, we cannot say that the world is a safe place for our children to grow up in. Look at the world around us. Wars are increasing with every passing day. We never realise the extent of an event and its consequences until it hits us directly. When the earthquake happened, Pakistan came together on one single platform. It felt great seeing that. We may be living in peace but in reality, we're not. So yes, it is important to make such statements.
What do you hope to achieve from this video?
FK: It is not about achieving something. If it makes someone think about the repercussions of war, specifically the happening in Beirut and generally, everything that is taking place globally, we will think that we did something. We don't know what it will achieve and neither achieving something was ever the point of this video.
Strings are always involved in their videos. Who did this video and how were you guys involved?
FK: Yes, we did have a say in the concept but Omair and Shehryar of Mystic Media did the video. They are from Islamabad. We shot it in Karachi. We told them that we wanted to keep it simple. Usually, videos have a certain element of glamour and style to them. But we wanted to avoid it. Because this video was not about looking good. It was about showing things for what they are. We wanted to send out a message without being glamourous.
What are you guys up to these days?
FK: We're flying off to India and USA soon. We're going to round

Faisal Kapadia Pictures
| | | | |
| --- | --- | --- | --- |
| | Bilal Maqsood and Fais … | | Dashing Style of Faisa … |
| Faisal Kapadia and Bil … | Faisal Kapadia and Bil … | Faisal Kapadia Musicia … | Faisal Kapadia on KAWH … |
| | | | |
Faisal Kapadia Videos