Vice President PTI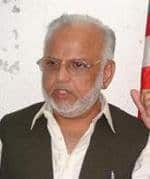 Ejaz Chaudhary is the Vice President of Pakistan Tehreek Insaf. He has been in politics doing social work for about 35 years and has insight into Pakistani politics.
Biography

Poltical View: To Help Build Pakistan a Safe Country
I want to help build Pakistan a safe Muslim state where people from all religions can live together with peace and harmony. To achieve my goal I am currently working to help Pakistan Tehrik Insaf (PTI) get organized at all levels and get established as a front line political party of Pakistan, by motivating and activating the people in all walks of life, especially our youth and students.
Political Views
Moderate
Religious Views
Muslim
Activities
Social and Community Services:
I have been actively engaged with a number of charitable organizations and have helped set up and run hospitals, free clinics and ambulance services. I have also been engaged in the welfare of prisoners and have been a non official visitor (NOV) of Jails in Punjab.
Furthermore, I have constructed a multipurpose hall in the low income area of my constituency and have donated it for community services.
Representation in Trade Body:
Twice elected as the Chairman Pakistan Crop Protection Association (PCPA), the leading trade body of agro chemicals in Pakistan.

Current Assignments in PTI:
Currently I am organizing the Party in South Punjab, an area which has seen neglect from the federal and provincial governments since independence. We have nominated (Provincial Constituencies Organizations) PCOs throughout South Punjab who are fast spreading the message of the party in the area.

About Me
In my 35 years of political career I started off as a student leader and was elected as Nazim-e-Alla of Islami Jamiat-e-Talba Pakistan. In this regard, I have travelled to many countries representing the youth of Pakistan. Later I joined Jamaat-e-Islami Pakistan and was nominated as Deputy Secretary General for the Party. I left Jamaat-e-Islami as I believed that the stance of religious political parties since 1999 was not the true representation of Pakistan's interests on national or international fronts.
I bring with me 35 years worth of experience and insight as I started my political career from the grass roots level. I was elected as Councilor / Nazim of Local Government three times. I have also served as the Deputy Mayor, Lahore Metropolitan Corporation. I have also contested as MPA and MNA from my area and served a party which is known as the most organized party in Pakistan.

Education Info
College:
University of Engineering & Technology
Bsc. Civil Engineering
Ejaz Chaudhry Pictures
| | | | |
| --- | --- | --- | --- |
| … | Ejaz Chaudhry speaks a … | … | imran khan with ejaz c … |
| | | | |
Ejaz Chaudhry Videos