Doctor in-charge of Khyber Agency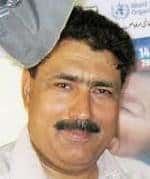 Shakeel Afridi is a Pakistani physician who allegedly helped the CIA run a fake vaccine program in Abbottabad, Pakistan, in order to confirm Osama bin Laden's presence in the city by obtaining DNA samples. Details of the doctor's activities emerged during the Pakistani investigation of the raid on Bin Laden's residence, Operation Neptune Spear. He was arrested from Torkham border while trying to escape the country days after the raid that killed bin Laden. On 23 May 2012, Shakil Afridi was sentenced to 33 years imprisonment for treason.
Biography
Dr Afridi came from a humble background, graduated from the Khyber Medical College, Peshawar in 1990 and was working as the doctor in-charge of Khyber Agency of the Federally Administered Tribal Areas of Pakistan. The doctor has a family. He is a native of Khyber Agency. In July 2011, Dr Afridi was described as being in his late 40s.
Details of the activities Dr Afridi is accused of
Colleagues at Jamrud Hospital in Pakistan's northwestern Khyber tribal were suspicious of Dr. Shakeel Afridi's, the hospital's chief surgeon, absences which he explained as "business" to attend to in Abbottabad. Dr Afridi was accused of having taken a half-dozen World Health Organization cooler boxes without authorization. The containers are for inoculation campaigns, but no immunization drives were underway in Abbottabad or the Khyber agency.
As a government employee, he set up what now is known to be a fake hepatitis B vaccination programme in the region, including Abbotabad.
The US intelligence plan was to obtain a blood sample from one of the children living in the Abbottabad compound, so that DNA tests could determine whether or not they were relatives of Bin Laden.
Dr Afridi had at least two female paramedical staff to help with the project, according to health department officials in Abbottabad.
It is believed that at least one of the women visited the Bin Laden compound to collect blood samples.
But it is not known whether these tests were central to the Americans' success in locating Bin Laden.
US reaction to Dr Afridi's arrest
The US Secretary of Defense, who was then CIA Chief Leon Panetta, has confirmed the role of Afridi in ascertaining the whereabouts of Bin Laden inside the compound in Abottabad. US Secretary of State Hillary Clinton has said that Pakistan has no justification for holding Dr Shakil Afridi. Rep. Dana Rohrabacher asked President Obama to intercede on Afridi's behalf , introduced two bills, H.R. 4069 to award a Congressional Gold Medal to Dr. Shakeel Afridi and H.R. 3901 to declare Afridi a naturalized U.S. citizen.

Pakistani reaction
On 6 October 2011, the Pakistani commission investigating Bin Laden's death recommended that he be charged with "conspiracy against the state of Pakistan and high treason" on the basis of available evidence. Pakistan seized Dr Afridi's assets. Alfridi's residence was sealed by Pakistani authorities and his family moved to an undisclosed location. The 15 female health workers, that assisted Dr Afridi in the fake vaccination program, were also declared not fit for any future employment.

Protest by aid groups
Humanitarian organizations including Médecins Sans Frontières protested the use of a medical charity for espionage purposes believing it would cause suspicion of such organizations in the future and endanger personal working on such projects claiming 'threatened immunisation work around the world'.
Sentence
A local court of political administration of Khyber Agency Wednesday sentenced Dr. Shakeel Afridi for 30 years in prison for spying for US secret agency CIA. The court sentenced Afridi under FCR act and had been convicted for spying for foreign secret agencies.According to verdict, Afridi would serve 30 years in prison and has to pay Rs. 230,000 as fine. According to sources Shakeel Afridi has been shifted to central jail Peshawar.
Dr. Shakeel Afridi Pictures
Dr. Shakeel Afridi Videos