WORLD CHAIRMAN & AMBASSADOR AT LARGE OF IHRC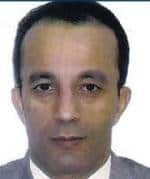 H. E. Dr. Muhammad Shahid Amin Khan is the 4th World Chairman of the International Human Rights Commission. The first Muslim and Asian elected from its members in the history of IHRC. His term of service is for ten years that started on February 24, 1996 which extended by the General Assembly for 2nd term on March 21, 2006. He is also first "Chairman of World Peace Mission Organization" elected by the Board of Directors in its first ever meeting held at Dubai-UAE on December 21, 2001.
Dr. Khan joined "Daily Azad" Lahore as staff reporter in 1980 during his studies at Central Model School Lahore,. Later he joined Weekly Awam Ki Pukkar Lahore as Editor for two years. He is the founder of Daily Jaiza Lahore, Multan & Islamabad and enjoyed the office of Chief Editor in 1985.
Dr. Khan was quite active during his studies and played very important role in Pakistan's active politics. He honoured various chairs during student life such as Secretary General, Vice President of School Student Union, Secretary General and President of College Union, and Secretary General of All Pakistan Students Association.
Dr. Khan was the first Chief Administrator of Pakistan Boy Scouts Open Group and was awarded three times "Quaid-e-Azam Medal " by President of Pakistan General Muhammad Zia ul Haq for three consecutive years from 1982-1984.
Dr. Khan was honoured by the His Holiness Pope Johan Paul -II with " Star of Vatican" in October 1999 and honoured with the Hijra Medal by the World Hijra Council at Jeddah, Kingdom of Saudi Arabia.
Dr. Khan joined International Human Rights Commission during 1988 as the Chairman of Jaiza Welfare Trust International-Pakistan as founder Organization. He was later appointed as first Vice Chairman for Asia of IHRC from 1988 to 1993. He performed the duties as Acting World Chairman from 1993 to 1996, after the death of IHRC 3rd World Chairman Mr. Andreessen Brooks and later took over the office of the World Chairman of International Human Rights Commission and Ambassador at Large in 1996.
He is also heading the WMPO, IHRC-RFT as its Chairman and also own the Business Group named Al-Ayesha based in Dubai, London, New York, Kuala Lampur, and Pakistan.
Dr. Khan has honour to serve its nation once his services were hired by Prime Minister of Pakistan Ms. Benazir Bhutto for a considerable period and also worked with the other Prime Ministers Mr. Ghulam Mustafa Jatoi, Mr. Nawaz Sharief, and Malik Meraj Khalid as close associate, where he utilize his abilities and skills for the betterment of the country.

Personal Information
Dr. Khan was born in Lahore, Pakistan on June 2, 1966. He studied at Central Model School Lahore and completed his graduation from Government Collage Lahore-Pakistan, in 1984. He did postgraduate studies in Journalism at the Punjab University Lahore, Pakistan. Dr. Khan did Ph.D. in International Cultural & Law from I.A.I France (U.K. Brighton University Campus) in 1996.
Dr. Muhammad Shahid Amin Khan Pictures
| | | | |
| --- | --- | --- | --- |
| … | … | | |
Dr. Muhammad Shahid Amin Khan Videos