Advisor of Prime Minister for Ministry of Oil and Natural Resources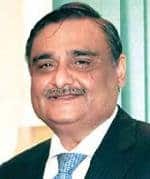 Advisor of Prime Minister for Ministry of Oil and Natural Resources.He is also owner of Ziauddin group of hospitals.The Dr. Ziauddin Group of Hospitals is one of the largest groups in Pakistan, which is functioning under Dr. Ziauddin Trust. The hospitals provide the latest in medical treatment and care at affordable rates for every citizen of the country.
Five hospitals operating across Karachi totaling over 600 beds provide the best in medical care. Keeping pace with latest diagnostic technologies and medical and surgical treatment. Departments of Diagnostic Imaging and Nuclear Medicines. The hospital have one of the most well-equipped Radiology & Diagnostic Imaging Departments in Pakistan.
The services provided at hospital are X-Ray and Ultrasound, MRI, CT scan, Digital Subtraction Angiography, Colour Doppler Mammography and Interventional Radiology.
The Nuclear Medicine Centre at the North Nazimabad and Clifton campuses are equipped with the latest Analogue and Digital Gamma Camera and the Pakistan Atomic Energy Commission licenses both centres. The North Nazimabad centre was the first nuclear medicine facility in the private sector. The nuclear medicine services provided include: Bone Imaging, Thyroid Scan, Brain Scan / SPET / PLANAR, Cerebral Perfusion Studies, Thallium or Tetrofosmin Spect Myocardial Perfusion Study, Gated Cardiac Spect and Radioisotope Ventriculography for ejection fraction, Liver and Hepatobiliar Imaging, Renal Study (DTPA, DMSA), infection Imaging, Thallium / Tetrofosmin scan in malignancies, Bone Marrow Imaging with Nanocolloid, GI Bleeding and Detection of Ectopic Gastric Mucosa, Scintimammography with TC Terofosmin scan for the detection of Breast Cancer and Radioisotope treatments of Toxic Goiter Thyroid Cacer, Painfulbone Secondaries, Polycythemia and Haemophiliac Joint.
The Department of Surgery is a modern tertiary care facility catering to the needs of the city as well as other regions. Consultant surgeons trained in reputable institutions of UK and USA with extensive experience in urology, endocrine and gastrointestinal surgeries manage the department. Beside routine surgeries a highly specialized endoscopic surgery unit in urology and general surgery is operational with an excellent record of success in gallbladder and prostate surgeries. A dialysis unit is also available with separate unit catering to Hepatitis B&C positive and HIV positive patients. Emergency services are provided round the clock. Peritoneal dialysis is facilitated for patients unstable for hemodialysis.
The Department of Medicine, along with highly qualified endocrinologist, caters to a wide spectrum of conditions supported by well-equipped intensive care unit(ICU).
The Department of Obstetrics and Gynaecology – a 24-hour service to deal with emergency obstetrical problems has been established.
The Department of Cardiac Surgery is operational since 1999 and caters to variety of Cardiac Surgical Cases.
Dr. Asim Hussain Pictures
Dr. Asim Hussain Videos