Federal Minister for Privatisation & Investment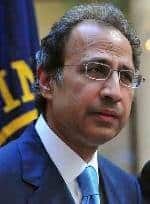 Dr. Abdul Hafeez Shaikh is an economist of international repute with over 30 years of experience in economic policymaking, management and implementation.Dr. Abdul Hafeez Shaikh was appointed Federal Minister for Privatisation and Investment in April 2003. He is an economist of international repute, who was appointed as Advisor to the Prime Minister on Privatisation & Investment with a status of Federal Minister in December 2002. He was elected member of the Senate of Pakistan in March 2003.
Minister for Finance, Planning & Development
Dr. Hafeez Shaikh had a highly successful tenure as Minister for Finance, Planning & Development in Sindh Province during 2000-2002. He was the architect of the financial recovery of Sindh, restoring financial discipline, reducing taxes, increasing revenues, paying over Rs. 20 billion of old bills, clearing the overdraft of State Bank of Pakistan of Rs. 11 billion, increasing allocation for poverty alleviation, social sector and development, and enhancing relationship of Sindh Government with international donor agencies.
Federal Minister for Privatization and Investment
He had three years and the Federal Minister for Privatization and Investment of the most successful in the history of Pakistan. Been completed of 34 deal, worth more than U.S. $ 5 billion in a transparent manner. Using the slogan "Privatization for the People", and made in shares of many companies to 0.8 million people, and to create ownership and extensive. This period saw an increase of foreign direct investment in the period from 1 billion to $ 5 billion. Dr. Sheikh was awarded in Pakistan, "Man of the Year" in 2004 by the business community in recognition of his contributions in the country. Left the government in early 2006.
He was a highly regarded member of the Senate of Pakistan and was Chairman of the Senate's Committee on World Trade Organization.
Dr. Shaikh's international experience includes assignments in Saudi Arabia, Sri Lanka, Indonesia, Malaysia, Philippines, Thailand, Vietnam, Romania, Czech Republic, Iran, Kuwait, Argentina, Bangladesh, Jordan, Qatar, Malta, Botswana, Tanzania, Ghana and Libya.
After leaving the Government, Dr. Shaikh was General Partner of an international investment company, headquartered in New York, which set up a $1.38 Billion fund for investments in Asia.Dr. Shaikh has a Ph.D in economics and has authored many publications including a book on Argentina.
Dr. Abdul Hafeez Shaikh Pictures
| | | | |
| --- | --- | --- | --- |
| | | | Dr.Abdul Hafeez Shaikh … |
| Dr.Abdul Hafeez Sheikh … | | | |
Dr. Abdul Hafeez Shaikh Videos