Novelist & Columnist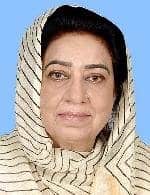 Bushra Rehman is a writer , Politician ,columnist and author . She was born in August 28, 1946 at Bahawalpur. She is Member of National Assembly of Pakistan Muslim league on reserved seats for women .
She is author of many Novels .She is very popular writer in young generation of Pakistan.She is author of around 25 collections of short stories, novels, travelogues, and as newspaper columnist.
Bushra Rehman Pictures
Bushra Rehman Videos