Former Federal Minister for Information Technology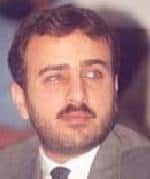 Awais Ahmad Khan Leghari was born on 22 March 1971. Awais Leghari is the son of Farooq Leghari former President of Pakistan. Awais Leghari is the member of Leghari tribe.Leghari comes from a feudal political family of Dera Ghazi Khan, Punjab.
He Newly Joined Pakistan Tehreek Insaaf (PTI).
Education
Mr. Awais Ahmad Khan Leghari started his education at Aitchison College, Lahore, Punjab. He passed Higher Senior Cambridge Examination in 1988. For higher studies Mr. Leghari went to the University of Rochester, in New York State, USA. He graduated in 1994 with Economics (Game Theory) and Political Science as his majors.
Personal life
He is married to Mr. Awais Ahmed Khan Leghari, and to find his wife on a website in the United Kingdom on the basis dateing, singlemuslin.co, United Kingdom. In addition to agriculture, which both his hobby and means of income, Mr. Leghari he loves fishing, and playing tennis.Political Career
Mr. Awais Leghari being member of a political family actively engaged in the socio-economic developmental issues of the area as well as country, entered the political electoral arena in 1997.
Election 1997
He contested and won the Provincial Assembly of the Punjab election in 1997 from Rajanpur on a PPP ticke.

Millat Party
On the founding of Millat Party on 14 August, 1998 Mr. Awais Leghari became a member.
Election 2002
He contested the October 2002 elections was elected from two seats, a National Assembly seat from Dera Ghazi Khan and a Provincial Assembly seat from Rajanpur.
PML (Q)
After Millat Party along with Sindh Democratic Alliance merged with the ruling PML-Q in May 2004 to form united Pakistan Muslim League, Awais Leghari became one of the senior vice presidents of the newly constituted party.Awais
Federal minister for information technology
Ahmad Khan Leghari, is the former Federal Minister for Information Technology of the Government of Pakistan.He has been assigned additional charge of the office of Federal Minister of Privatisation & Investment on March 30, 2006.
Awais Ahmad Khan Leghari Pictures
Awais Ahmad Khan Leghari Videos