Arsalan Iftikhar Chaudhry Doctor Pakistan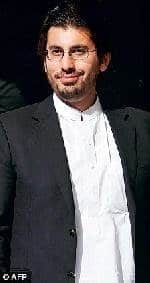 The chief justice's elder son Dr. Arsalan's name has come forth for the second time in a controversy. Dr. Arsalan is the son-in-law of an ex-army general , Major General Zia-ul- Haq. Despite getting a C grade in intermediated, Dr. Arsalan got admission into Bolan Mediacal College on the quota reserved for the chief minister. After being appointed as a medical officer for only 26 days, he was appointed as a section officer in the department of Health.
Before the issuing of the notification of his appointment in the Balochistan Health Department, the federal govt. had already requested his services. The Balochistan govt accepted the application of the federal govt and Dr. Arsalan was posted in grade 17 as an assistant director F.I.A in May 2006, Dr. Arsalan was promoted to grade 18 as deputy director F.I.A from where he was sent to the National Police Academy for training. However it must be noted that upon supreme judicial council reference's aallegations against him, he had resigned from govt service.
NAB asked to probe Arsalan case
The National Accountability Bureau has received a letter from the attorney general asking it to investigate the Dr Arsalan Iftikhar-Malik Riaz case.
A Joint Investigation Team comprising officers of NAB, Federal Investigation Agency, senior police officers and legal experts will be formed to look into allegations of bribe allegedly given by property tycoon Malik Riaz to Dr Arsalan Iftikhar, the son of Chief Justice Iftikhar Chaudhry, to get relief in court cases being heard against him (Malik Riaz).
According to an official of the bureau, NAB chairman Admiral (retd) Fasih Bokhari decided to constitute the JIT in line with the Supreme Court order of June 14, asking the federal government to take necessary action against Dr Arsalan Iftikhar, Malik Riaz and his son-in-law.
After the SC order, Admiral (retd) Bokhari had told reporters that it was a case between two individuals and had no financial implications for the national exchequer, so the case did not come under NAB's jurisdiction.
But Zahid Bokhari, counsel of Mr Malik Riaz, said on June 15 that NAB could investigate the case because in accordance with Section 9 and 18 of the National Accountability Ordinance (NAO), 1999, NAB could investigate such cases.
NAB spokesperson Zafar Iqbal confirmed that the bureau had received a letter from the office of Attorney General asking it to form a JIT to investigate the case.
Arsalan iftikhar chaudhry Pictures
| | | | |
| --- | --- | --- | --- |
| | Arsalan Iftikhar Chaud … | Arsalan Iftikhar with … | CJ seeks all evidence … |
| Dr Arsalan admits he e … | | | |
Arsalan iftikhar chaudhry Videos