ghazal/film Singer – Showbiz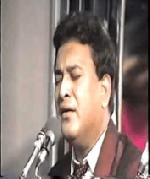 A. Nayyar (Arthur Nayyar) is a renowned Pakistani ghazal/film Singer. He belongs to a Christian family. He began his career as singer from film Bahisht in 1974. His first film song Yunhin din cut jayen, yuhin shaam dhal jaye was a duet song with Rubina Badar in film Bahisht (1974), composed by A. Hameed. Nayyar declared well-known singer Ahmed Rushdi a vital contributor to his career as he learned screen playback from Rushdi. A. Nayyar and Akhlaq Ahmed remained leading playback singers of Pakistan film industry in the era of 1980s. Nayyar also runs a music academy in Lahore. A. Nayyar was one of three innovations in the singing field in the 70s. Nayyar earned the Nigar Award for best singer in director Hasan Askari's film "Aag" in 1979, Nigar Award for best singer in director Sangeeta's film "Jeenay naheen doon gee" in 1985, Nigar Award for best singer in director Pervez Malik's film "Ghareboan ka badshah" in 1988 and Nigar Award for best singer in director Sangeeta's film "Taqat ka tufaan" in 1989.
Nayyar also performed on TV and radio; in fact some of his TV songs were so popular that they were included later in films. Nayyar got a chance to work with every famous music director and gave one hit song after the other. His romantic duets with Naheed Akhtar and Mehnaz were very popular with people and his solos were well liked too. His voice had depth and versatility and could express different emotions with ease.
Mehdi Hassan and Ahmed Rushdi are two great singers who according to A. Nayyar, helped him in his career. Ahmed Rushdi taught him screen playback while Mehdi Hassan helped him improve his voice quality.
A. Nayyar has Won 7 Nigar Awards, 8 Graduate Awards and 4 Bolan Awards. Samina Peerzada's Inteha was the last movie for which A. Nayyar sang.
A Nayyar Arthur Nayyar Pictures
A Nayyar Arthur Nayyar Videos