Member, Pakistan Atomic Scientists Foundation (PASF)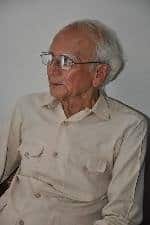 Mubashir Hassan January 22, 1922 PhD, is a Pakistani civil engineer and science administrator known for his work in Hydraulics and his political role in the development of the atom bomb project. He held several public offices, including standing as the 9th Finance Minister of Pakistan (1971-1974) and the 3rd Science Advisor to the Prime minister Secretariat (1974-1977).
A political activist, he co-founded the Pakistan People's Party and was jailed alongside Zulfikar Ali Bhutto in 1977. Released in 1984, Hassan joined the UET Lahore's Faculty of Engineering as professor of civil engineering.
Association
Member, Pakistan Atomic Scientists Foundation (PASF)
Member, Pakistan Civil Engineer Society
Professor, Civil Engineering at UET Lahore

Publications
Books and Bibliography
2001, Birds of the Indus, Mubashir Hasan, Tom J. Roberts
2000, The Mirage of Power, Dr. Mubashir Hassan, PhD, (2000) (ISBN 0-19-579300-5)
1989, An Enquiry into the Bhutto Yean, Dr. Mubashir Hassan
1986, National unity: what is to be done?, Mubashir Hasan, I. A. Rahman, A. H. Kardar
1977, United front for people's democracy
1976, Pakistan's illiterate leaders
1967, A Declaration of Unity of People
1954, On the general education of an engineer

References
"Dr. Mubashir Hassan". Chowk.com.
"Professor Mubashir Hassan". revolution.com.
Hassan, Doctor of Philosophy (PhD), Dr. Professor Mubashir (May 2000) [2000], "Zulfikar Ali Bhutto: All Power to People! Democracy and Socialism to People!" (in English), The Mirage of Power, Oxford University, United Kingdom: Dr. Professor Mubashir Hassan, professor of Civil Engineering at the University of Engineering and Technology and the Oxford University Press, pp. 100–393, ISBN 0-19-579300-5
Pakistan Herald. "Intellectual: Dr. Mubashir Hassan". Pakistan Herald.
"Delegation visits with Dr. Mubashir Hasan
Mubashir Hassan Pictures
| | | | |
| --- | --- | --- | --- |
| Dr. Mubashir Hassan on … | … | | |
Mubashir Hassan Videos