MNA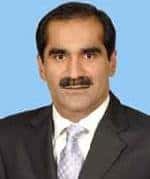 Khawaja Saad Rafique (born November 4, 1962 in Lahore) is a Pakistani politician hailing from Punjab. His father Kh Mohammad Rafiq was a renouned Pakistani politician was one of the pioneers of opposition politics in Pakistan.
Education
He is a graduate of Government M.A.O. College in Lahore and received his masters from University of the Punjab in 1986.
Political career
He is a former student leader.He has previously served as Member of the Punjab Assembly. He was also appointed as the special assistant of prime minister for youth affairs with the status of federal minister of state in 1999. He is a member of Central Working Committee of PML-N.He is an active central leader of PML-N and has been elected as Member of the Pakistan National Assembly since 2002 and was reelected in the Pakistani General Election in 2008.He won the general elections and became MNA from NA-125 by defeating ex- federal minister of commerce, Humayun Akhtar Khan of PML Q.
Federal Minister
He was the Federal Minister for Culture, with additional portfolio of Youth Affairs for four months in Prime Minister Yousaf Raza Gillani's first cabinet.

Resign
He resigned as the minister on May 12, 2008, along with nine other federal ministers of his party under protest for the restoration of deposed judges.
He was one of the loudest voices in the country raised against the General Mushurruf dictatorship.
Khawaja Saad Rafique Pictures
Khawaja Saad Rafique Videos