Deputy Secretary General JIP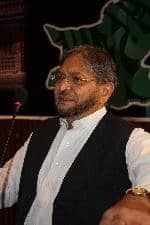 Dr. Farid Ahmad Piracha was born on November 10, 1949 in Sargodha, Punjab and was elected for his first term as MNA as an MMAP candidate.A businessman by profession, he completed an LL.B degree in 1975 and M.A in 1976, followed by a Ph.D from University of the Punjab in 2002. He was previously a member of Provincial Assembly of the Punjab from 1990-1993. He has also served as the President of the Punjab University Students Union from 1973-1975 and a member of the Punjab University Senate for the terms of 1975-1989 and 1990-1993.
Family
He is fortunate, in that, he comes of a learned family. His late father Maulana Gulzar Ahmad Muzahri was a renewed theologian, orator and one of the top leaders of Jamaat-e-Islami.
Education
He founded a high standard educational Institute known as Ulma Academy, at Lahore. In the circumstances Dr Farid Ahmad Paracha, was raised in a milieu, wherein, he studied the Quran and Hadith and completed his religious studies from a Qasmul Aloom – a seminary, at Sargodha. Later, he passed Adeeb Arabi and Alam Arabi from Board of Intermediate Lahore which augmented his religious back ground.
LLB Examination
He passed his LLB examination from University of the Punjab and earned his Master Degree, from the same in 1976.

PHD (Islamic Studies)
He worked for PHD in Islamic Studies and was awarded Doctorate of philosophy in Islamic Studies.

Political Career
Despite his heavy religious and mundane engagements, he worked for Jamiat Talba Arabia(Organization of The Students of Seminars) and Islami jamaiat Talba (A sister Organization of Jamaat-e-islami Pakistan).

President Punjab University student Union
He was elected President Punjab University student Union for two terms.

Khatm-e- Nabuwat Movement 1974
He had played a significant and historic role in Khatm-e- Nabuwat in 1974 which culminated in declaration of Qadyanis, as non Muslims.

JI Pakistan
Then he regularly joined Jamaat-e-Islami Pakistan and worked for various social and political organizations.
Writer
He has written some books of which the fowling are note worthy;
Journey of love (story of pilgrimage)
the Whole Globe is ours, (Accounts of travels to Europe and America).
These Distances, These Connections; is a travelogue.
A movement, A Revolution
Present
He at present had two educational Institutional Ulma Academy Lahore and Tamir-e- Seerat Model Degree College Lahore. Besides, he is member of WAMY (World Assembly of Muslims Youth a Saudi Arabian based Organization).
Dr Farid Ahmad Paracha Pictures
Dr Farid Ahmad Paracha Videos